Ted Nugent
The Fillmore
June 19, 2008
Review and Photos by Crystal Akins
Goatees, sleeveless t-shirts and camouflaged cargo shorts were the norm last night at the Fillmore, and all for foul-mouthed Ted Nugent, who stormed into San Francisco with stage props that would have put members of PETA into cardiac arrest.
Promoting his Rolling Thunder 2008 tour, Nugent's stage props encapsulated the interests and values of many concert goers: a .50 caliber M2 machine gun, dead animals and their skulls, the American and California flags - all of which were no match for the enormous "Uncle Ted" backdrop, mimicking Uncle Sam.
"We're avid hunters, and since I was a kid I've believed in the Ted Nugent philosophy," said Jake Cash who came with his son. "Live free, play hard, and don't make no excuses about nothing."
For such a verbose and controversial artist, tonight's crowd was pretty tame. Waitresses took orders and served drinks to the crowd of 40-something-year-old balding men, their wives, and children who were subjected to a handful of f-bombs (among other obscenities) dropped by Nugent all night.
Nugent, a politically conservative NRA advocate, used San Francisco's eccentric qualities as the butt of his jokes calling us "weird" when the crowd failed to laugh or be amused by his jokes.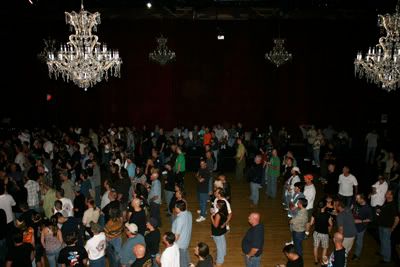 But for someone with such a big mouth, The Motor City Madman certainly backed up his trash talking with an enthusiastic and flawless performance. The Nuge riled up the crowd with classics such as "Cat Scratch Fever" to songs off his newer album "Love Grenade" with extended guitar solos that commanded him respect. Little freebies like guitar picks and drumsticks were thrown into the crowd as souvenirs, and Nugent's drummer must have been at least 40 years old but was a complete savage on the drums.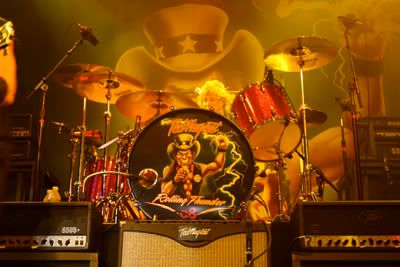 Do's and Don'ts:
DO see Ted Nugent at least once before he dies; his jokes are so offensive and utterly pretentious that you can't help but laugh.
DON'T come if you're easily offended or fail to have a sense of humor.
DO come early if you'd like to score a balcony seat.
DON'T talk trash to the bouncers or scream vulgarities in their face—they will regulate.
Critic's Notebook:
Personal Bias: Not especially fond of obscenities being screamed into my face.
Random Detail: Nugent had so many guitar picks stuffed into his wristband it was like a magic trick.