Club Beso at Deco Lounge
June 19, 2008
Review and Photos by Crystal Akins
Better than: The tired, played-out Castro
Last night the Deco Lounge on Turk and Hyde Streets hosted Club Beso (translation: Club Kiss) and the Sisters of Perpetual Indulgence's official bingo afterparty where regulars and newbies found themselves amid drag, dancing and a stale body odor aroma.
If you can wade your way through the miscellaneous drug addicts and homeless in the heart of the Tenderloin, this enclave is peppered with festive piñatas, $3.50 mojito drink specials, and DJ Kiko spinning high energy Latin music, promoting the night's theme.
"You never know what's going to happen at Club Beso," said promoter Ron Rios.
On nights such as this one, patrons are afforded the luxury of ordering food in addition to the cheap drinks. Still not enough? The Deco Lounge also provides a pool table, pinball machine, and various other gadgets for those who suffer from short attention spans.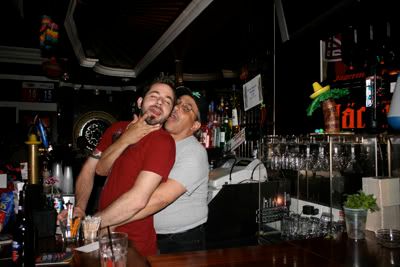 Tonight the bar was brimming with the Sisters and they looked especially fierce in their festive veils, make-up and glitter. The Sisters (men in drag and totally fabulous) regularly have bingo games at the Veterans Memorial building where they raise funds for various endeavors such as AIDS awareness or financial aid for college students.
My personal evening's highlight was when the sisters deemed me worthy of their sacred blessing. I was delicately drenched in glitter and Sister Jezabelle said a few uplifting words about human existence, restoring my faith in humanity. However, reality slapped me in the face when I choked on the glitter that found its way into my mojito. Not cool.
Aside from the glitter debacle, this bar is a nexus of all genders and sexual orientations, putting any apprehensions and insecurities I had to rest. Within five minutes of entering the bar, I witnessed bartenders getting down with their bad selves via some muy caliente dance moves which automatically set the mood for good times.
Some Do's and Don'ts:
DO be wary of the large mint leaves in the mojitos because no one wants to perform the Heimlich maneuver if you start choking.
DON'T be scared to make friends. Everyone is very welcoming.
DO wear deodorant or the rest of the gang will blame the pungent smell on you.
DON'T forget to lock your car doors if you drive, and if you do, you're rolling the dice.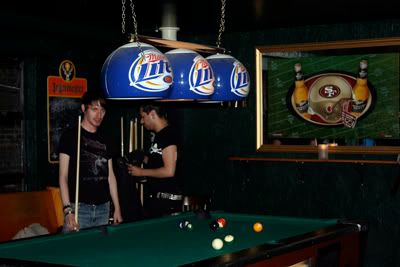 Critic's Notebook:
Personal Bias: Cheap drinks put everyone in a good mood.
By the Way: Good luck finding the bathrooms because they're hidden.