Jonathan Richman
June 17, 2008
The Make-Out Room
By Jennifer Maerz
Better Than: Letting the air conditioner win. Because when we refuse to suffer, the air conditioning wins.
Last night at the Make-Out Room, the lovers were there and they were full of sweat. They'd taken the train from the city and the East Bay, and they huddled on the floor, under tables and next to chairs. They'd walked from Mission sidewalks to sit in dark corners where they could share pitchers and sway to Jonathan Richman's guitar. They parked it on bar stools and stood along walls, or between other pairs of boys and girls and girls and girls. But the lovers were definitely full of sweat.
It was hot. Balmy San Francisco hit in the middle of the week, when it always seems to hit these days, and the lovers were roasting under the Make-Out Room's red stage lights – lights that made them feel like they were inside a 7-11 hot dog rotisserie, cooking in the heat, in a bar that had no air conditioning. But suffering is part of the lovers' story with Jonathan Richman. As he sang in his opening song, "When We Refuse to Suffer," the prices we pay for shirking our burdens are high: the air conditioning wins. And life is boring.
But life inside Jonathan Richman's head is never boring. We may not always understand it, like when he sings a song in French. But then, that song was just the French version of "The Lovers Are Here and They're Full of Sweat." So last night the lovers already knew that tale about the couple who were sweaty because they'd just come in on the train. They'd heard the English version on the new record. They knew the travelers had fallen in love at the youth hostel. "What?" Richman asked when the lovers in the audience laughed at his explanation of this courtship. "You're just jealous."
Other times Richman sang in Spanish. But even then he'd pick out bits for interpretation. Something about whorehouses. Nothing the healthy Make-Out Room couples would relate to, but they laughed at the punchlines nonetheless. They laughed at all the punchlines, because Jonathan Richman has a lot of funny observations.
Meanwhile the lovers rubbed each others' sweaty backs, they twirled each other around by the stage. They clapped a backbeat when Richman prodded, "Don't be afraid to give us that backbeat. It warms up the room." And it did warm up the room. It warmed up the room until the lovers were roasting, their faces flushed but they still sang along. When Richman sang his "Cellphone Song" (the one about how "You can have a cell phone, that's ok, but I won't. You can have a cell phone, if you really want, really want to die.") they piped up their parts. Richman tried to split the room into two halves, each one singing its chorus, but the room stayed united in helping Richman with his song for luddite lovers.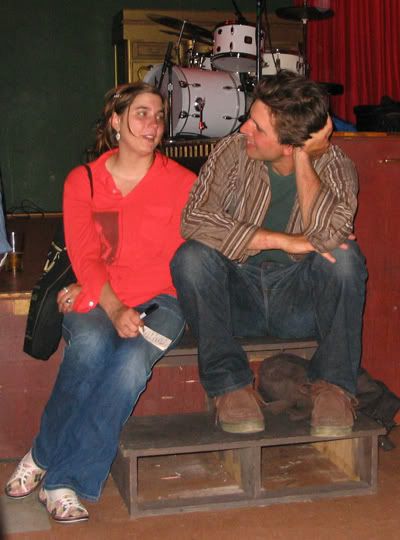 Not everyone at the Make-Out Room was a lover. And not everyone in Richman's songs was in love. Sometimes his lyrics turned toward pining for a girl, for a "G.I.R.L.F.R.I.E.N.D," as he spelled it out. He sang-explained what it was like being 17, working at a Boston museum, and yearning for the 19 year old co-eds. The ones who could help him see paintings in art places so much better. Elsewhere in the set he expressed another kind of love – for this world. Even though this world has "more plastic than kelp."
In the same way that the lovers in the room were both shvitzing and shining, Richman was both cynical and hopeful, poking fun and praising, and in the end offering a humorous sort of hope. Because when you're witnessing a Jonathan Richman performance, sometimes his insight into the need to suffer, to beat that air conditioning, to stay in love despite the crowds, to throw away the cell phone so you can just have a walk on the beach, sometimes that's all you need to forget how uncomfortable an old club with no fan can be. When you refuse to feel, your life becomes a bore -- and you're suffering even more. At least, that's the way Jonathan Richman said it.
By the way: Jonathan Richman also performs Wednesday and Thursday night at the Make-Out Room. Bring ice, and prepare that backbeat.