(Click the image for a full slideshow)
"Chihuly" Opening Weekend
de Young Museum
June 14, 2008
Notes and Photos by Catherine McCulloch
If Dr. Seuss and Lewis Carroll were to open a head shop it would probably look a lot like the Chihuly exhibit at the de Young.
The crowds transformed the museum into a veritable madhouse Saturday for the free opening of the glass artist's show. I arrived at around 11am and was given an admission ticket for -dun dun dunnn- 3:30. Non-surprisingly, the show sold out by 2pm. While waiting for their turn to wander around the exhibit for half an hour, visitors enjoyed live music, family activities and a variety of industrial art programming by Oakland-based non-profit, The Crucible.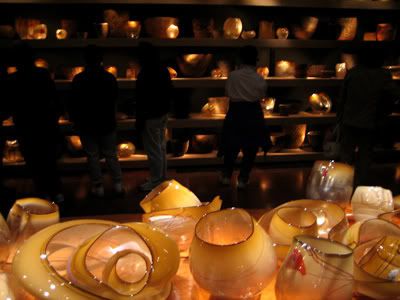 This weekend's de Young exhibition is the largest museum exhibit of Dale Chihuly's work to date. The show includes 11 galleries with four other pieces outside and at the Legion of Honor. The galleries are comprised of new and archival works, each with its own theme. Dale Chihuly playfully experiments with the properties of glass in an attempt stretch the medium past what others would consider its boundaries.
The artist's appreciation of nature is strongly reflected in his work. I was blown away by the first room of the exhibit which contained "Glass Forest #3," a recreation of one of Chihuly's earliest installations. The forest was comprised of white milk glass and neon light. It was amazingly constructed by gathering glass at the end of a blow pipe then climbing up a ladder and letting the glass drop to the ground while simultaneously blowing into the pipe so that the sculpture wouldn't collapse.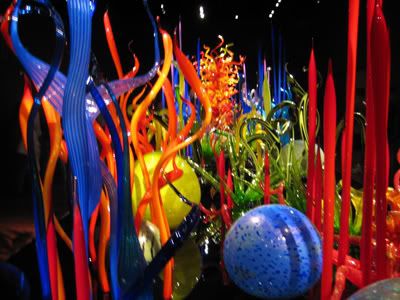 The sheer size of these sculptures and installations is enough to impress even the most skeptical observer. It was even more astonishing to discover that the man who designed these monoliths is blind in one eye. Chihuly uses paint and canvas to conceptualize each project and then employs a team of artists to do the work (something he has received much criticism for).
Other noteworthy pieces included a 56-foot-long Mille Fiori garden of glass at the conclusion of the exhibit. Also, the five Chandeliers which fill the room with their sprawling tentacles will make you feel ant-sized. The two boats on display are cornucopias of glass balls and a variety of other sculptures reminiscent of the Willy Wonka lolipops and flowers.
Chihuly's exhibit is truly a pleasure to walk through. Each room revealed a new wonderful treasure. The most popular room on Saturday was the "Persian Ceiling" section where a small white room was colorfully illuminated by light from a glass ceiling which held dozens of colorful glass pieces. Visitors' faces visibly lit up as they entered the room. There could only be one response: awe.
The exhibit will run till September 28th.