(Click the image for a full slideshow)
RoboGames 2008
Fort Mason Festival Pavilion
June 13, 2008
Notes and Photos by Edward Paik
Next time you decide to build a robot, add a weapon. It may be the difference between life and death. For the robot, that is.
Saws, spinners, wedges, lifts and robotic fists adorned many a metallic creation at Friday afternoon's 5th annual RoboGames -- the world's largest robot competition where thrusting your opponent into spiked walls and ripping 'em apart are encouraged.
Crowds at the three-day event gave standing ovations at the sight and sound of twisting metal during the combat competition, where 439 adults and children brought their homemade robots with a primary objective to seek and destroy in a quarter-million dollar bullet-proof arena.
"It's a sport," said Robert Woodhead, a fifth year veteran, taking a sip from his Tiger Woods endorsed Gatorade. "You expect robots to die in all crazy ways."
Six thousand dollars, seven years of experience and a wedged machine only needed 23 seconds to make an end of Gary Jin's robotic opponent. "Original Sin" was expected to win after all, said Jin, the 43-year-old engineer who designed the robot after watching the U.K. television show "Battle Bots."
"But you never expect a guy to just die like that," he said.
Others were less fortunate, ending up with a torn robotic part, smoke - or worse, and a spot on the loser's bracket.
"Well, then you get to rebuild it," said Mutt, a 37-year-old co-organizer of the event. "That's part of the fun, you know. Actually competing is just a small part of it."
RoboGames drew forth a good deal of variety. Over 500 robots from 340-pound machines designed for robotic murder to 25-gram sumo-bots were controlled by almost 400 human masters from 11 countries.
Robot pilot Yoon-Seok Pyo arrived last Tuesday from South Korea to participate in the humanoid competition as part of the Kwangwoon University's Robot Game Team. From running, climbing to kung-fu, Pyo aims to display new items from Korea.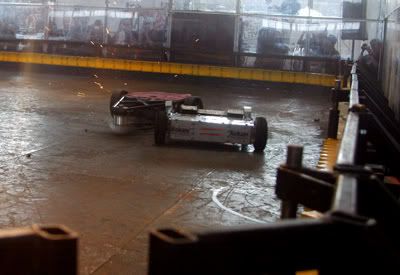 Others also featured current advancements in technology, including a robotic "lifesuit" to aid the handicap as well as new mechanically driven toys, to display the future of robotics.
But aside from advancements, the competition and fighting, RoboGames is done for the excitement that comes from creating tangible objects from imagination, says Mutt.
"We kind of get attached to our robots," adds Mutt, who's also competed worldwide. "They kind of each get their own personalities. To us a robot dies, to another person it's just a box on wheels."
Critic's Notebook:
Random Detail: Despite the intent to destroy another's robot, the competitors share camaraderie in their common bond and practice great sportsmanship. "We're all friends, we're family," Mutt said.
By the Way: According to co-organizer Simone Davalos, next year's RoboGames will be planned starting this upcoming week.