John Wayne Memorial Water Balloon Fight
Alamo Square
June 11, 2008
Notes and Photos by Edward Paik
Darcy Villere and Jonathon Kakacek weren't thinking too much when they decided on promoting a water balloon fight near downtown San Francisco.
"I was walking over here [on my way] to get drunk," Kakacek said. "I happened to walk into the park…"
"…and he says we need to do a water balloon fight at Alamo Square," Villere interrupted.
"I think that's one of the dumbest things I've ever heard," said Villere, whose neon-yellow warning vest now sported many a wet spot. "When were we going to do it?"
Yesterday evening (two months after this little exchange) the first "John Wayne Memorial Water Balloon Fight" was held at the Alamo Square, an "event" that coincided with what would have been John Wayne's 101st birthday.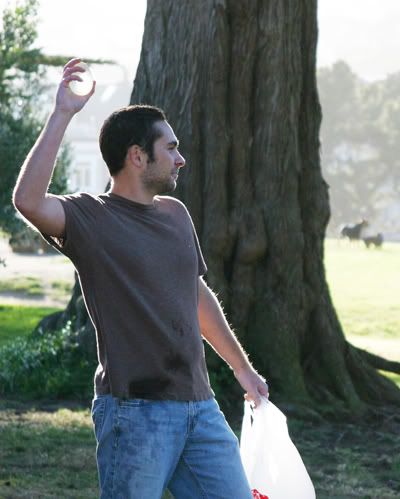 The Academy Award-winning American film actor, best known for his iconic roles in Western films, and the name of the S.F. park inspired Villere and Kakacek to come up with a water fight based on the Battle of the Alamo, which was fought between the Republic of Mexico and rebel Texans in 1836 for state's independence.
Reviving the Battle between Texans and Mexicans, the rules played out like this:
1) Those siding with the Mexicans wore blue T-shirts.
2) Those siding with the Texans wore brown T-shirts.
3) BYOWB (Bring Your Own Water Balloon).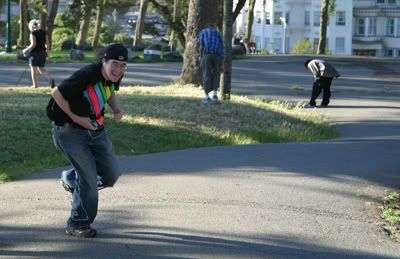 But is wasn't a history lesson or a reenactment by any means said Villere, a 29-year-old former technical theater teacher from Lowell High School.
"It's just two guys with empty heads going, 'Oh, why don't we try this.'" he said.
Four hundred water balloons (which were hand-tied by Kakacek and another supporter before the event), water guns and buckets that held the balloons were included in the arsenal of potential ammunition for nearly 40 participants.
For Karl Ebergen, a senior at Lowell High School and former student of Villere, the fight could have been a reenactment.
What started out with Mexicans outnumbering Texans four-to-one, according to Ebergen, became only a handful of Mexicans left without ammunition and at the mercy of Texans after a half-an-hour.
"Any water balloon fight lasting more than five minutes is a very successful water fight," said Andy Rothchild, a former student of Villere who was pleased with the event.
But to Lowell High School senior Ramon Solis, who graduated earlier that day, the fight meant more than just a birthday or mindless recreation.
"I was welcomed into the real world," he said. "By getting hit with a water balloon in the nuts."
Villere plans to hold the event on a Saturday next year to draw a larger crowd, and to continue the start to an annual tradition. But he isn't too concerned with how things will unfold, or how many participants will show up next time.
"It'll still be me and Jonathon chucking water balloons at each other."
Critic's Notebook:
Personal Bias: Do I look like a target? Really.
Random Detail: While I was chatting with co-organizer Darcy Villere, this little gem transpired:
"Dude, he's got a thing (voice recorder) in his hands," Villere said.
"I can hit it. I can hit it," replied some idiot.
By the way: Jonathon Kakacek, who co-organized the event, is also responsible for BYOWB (Bring Your Own Big Bicycle), an Easter Sunday San Francisco event.