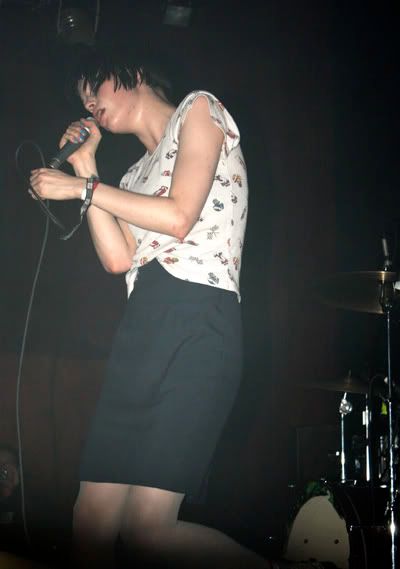 Crystal Castles
The Independent
June 10, 2008
Review and Photos by Crystal Akins
Crystal Castles just barely made an appearance last night at the Independent, playing less than 45 minutes while their opening band, MM/DD/YYYY, played only 15 minutes less than the headliners, promptly concluding the show at a whopping 10:28 p.m.
The sold-out show seemed promising with fans paying an upwards of $35 to scalpers while others traveled from San Jose to see the band. Others ranted and raved about Crystal Castles' unique electro, Atari sounding music or the lead singer's manic dance moves and boyish, bowl haircut.
"It's not what you hear on the radio everyday," said show attendee Doyle Johnson, praising Crystal Castles' sound.
The band played crowd favorites like "Courtship Dating" and "Alice Practice," and fans cheered in approval. I appreciated lead singer Alice Glass's ability to work all corners of the stage and the flashing strobe light that heightened the effect of her manic dance moves as she jogged and rolled around.
A feeble attempt was also made by Glass to crowd surf, but she barely leaned into the waiting arms of the crowd and never really left the stage.
For all the good things one can say about Crystal Castles, this band is also so utterly pretentious that they left a crowd chanting for an encore with absolutely nothing.
"This is our last song because I have to pee," said Glass just before wrapping up the set.
I have no doubt in my mind that the crowd would have waited for Glass to relieve herself just to hear one more song, but no amount of whistles, chants or screams would have summoned the band to get back on stage. Reality finally settled into fans when assistants started breaking down the band's equipment.
The crowd's initial enthusiasm and hysteria dimmed and fans looked confused as they piled out of the Independent. No one was on cloud 9 and no one really had smiles on their faces. Crystal Castles left their fans thirsty for more. I can't even remember the last time I made it home before 11 p.m.
Critic's Notebook:
Personal Bias: I hate pretentious bands.
]Random Detail: The venue says no flash photography, but they won't kick you out if you use it.
By the way: Don't pay to hang out in the V.I.P area—it sucks.