"Bijou: A Tribute to Heklina"
Martuni's (Valencia St.)
June 8, 2008
Notes and Photos by Edward Paik
She's given them what they want. An illusion of gender through drag. Blood and spit and sex for shock value. Fellatio backstage. Everything and anything to give them a sense of escape from everyday life.
She knows what the drunk want, what punks and perverts have come to expect. After all, the business of staging San Francisco's longest running drag show has become her life.
It's stuck to her like the fishnet stockings, spectral eye shadow, padded breasts and that white wig that looks like it was ripped from the musical "Hairspray" or from Dolly Parton's scalp.
And though the creation of the "Trannyshack" has made her a worldwide drag icon, Heklina is calling it quits. She's become adept at controlling the chaos of the routine of stage life.
So instead of going on, she's looking for an escape.
"It's my time," she said. "I don't feel too challenged with it anymore. I'm feeling a little limited."
Heklina breathes in, then flicks the still-lit Parliament cigarette to the sidewalk.
"I have to move on."
"Bijou" on Sunday night was the first of many tributes to the creator of Trannyshack, who plans to end the historic show this August. Held at Martuni's, friends and fans gathered at the intimate location to sing the classics in honor of the 40-year-old lady.
Trannyshack's creation and notoriety was a happy accident, Heklina told the crowd. Twelve years ago, make-up was as foreign as the Icelandic blood in her veins.
"I wasn't really a professional drag queen, but I had to learn quickly how to put on my make-up and all that stuff," Heklina said. "I didn't know any of that stuff when I started Trannyshack."
Trannyshack wasn't supposed to last a month at The Stud bar when it began in February of 1996. Heklina created the show on behalf of the club's request to fill in Tuesday nights as a replacement.
And the boy from Minneapolis would become a woman on that San Francisco stage.
As years passed, Heklina grew into her role; her identity as a drag queen. Influenced by Klubstitute and the queens of New York and S.F. who passed away in the early-90s from AIDS, she built Trannyshack into a quintessential local experience.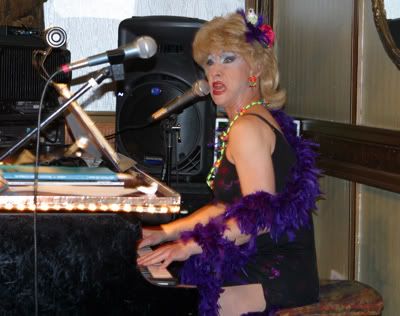 Relying on performance arts and musical talent as opposed to traditional lip-syncing acts, Heklina embraced the ideology that anyone could perform on her stage.
"You didn't have to look a certain way or dress a certain way, as long as you have something to say on stage," she said. "There are no rules."
This was Heklina's method of connecting with the audience, using simple entertainment stripped of lecture and politics to give them what they wanted.
"It's weird dichotomy," said Heklina, on a drag queen's role to entertain. "On the one hand you don't take yourself too seriously but on the other hand, you don't let anybody fuck with you."
Heklina now travels the globe with Trannyshack, from London to Iceland, Reno to New York, performing the show at every stop.
"It took me to leave San Francisco to realize that Trannyshack is world renowned," she said.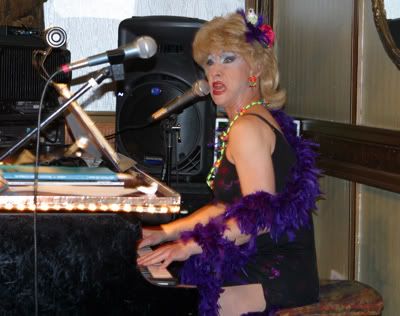 But it's the first step to her escape. Taking the time to travel around the world with her show before turning back to theater, and then onto a new challenge: to create bigger, better shows that break from her current routine.
For now Heklina sits in the upper corner of Martuni's with solace on her shaven face.
"Change is good," says Tom Orr, a friend whose written songs for Heklina in the past. "The only constant you have is change."
Critic's Notebook:
Random Detail: In proportion to the rest of her body, Heklina's signature white wig is approximately one-fourth of her total height.
By the way: The next all-star tribute to "Trannyshack" and Heklina takes place at the "The Monster Show," hosted by Cookie Doush and DJ MC2 Saturday, June 14 at the Metro Bar.