Heloise & The Savoir Faire
June 9, 2008
Café du Nord
By Jennifer Maerz
Better than: spinning that old disco vinyl at home
Mondays are the new Fridays. Not for me, mind you, because for me Mondays will always be a crushing reminder that all the fun of the weekend has shriveled up and I am now even further behind that elusive good night's rest.
For the young and resilient, though, the Market and Church club scene was alive with near-weekend vitality last night. As I walked through Lower Haight toward Café du Nord, I heard one girl on her cell phone, telling a friend, "I'm so trashed! I'm just wandering the street right now! Tell me where you are so we can meet up!" Turn the corner and the Transfer was spilling its overheated inhabitants from one of its million popular DJ nights out onto the sidewalk. And up the street, when I finally got to du Nord, it was Saturday Night Fever gives the Monday Night Slump a boost as New York's Heloise & The Savoir Faire brought live disco to the rock club.
But first there was an opening set by the Gun & Doll Show, the highlight of which was an encore conga line through the show room and into the bar, winding a couple human coils around the posts until the singer could stop, stand on a chair, and lead the crowd in "Happy Birthday."
The only performance that could follow that finale was one fronted by one Heloise Williams. Williams looked (be)dazzling in her green glitter mini and silver sparkly tights, blonde hair swept off her face to reveal electric blue stripes of shadow across her eyes. She looked like a one-woman party band. But she also has a crew – two dancers (one of each gender), a drummer, a bassist, and a guitarist. Together they remake disco and New Wave without altering the old formulas too much. Honestly, the music is fun and all, but it's Williams voice that steals the show. Her range is incredible. One moment she's Beth Ditto doing the disco punk blues, the next minute she's all Donna Summer diva, before coming back to a coy little Blondie-sounding thing. I'd imagine Williams could sing anything she tried, from rock to jazz standards, and her voice carries over all the beats.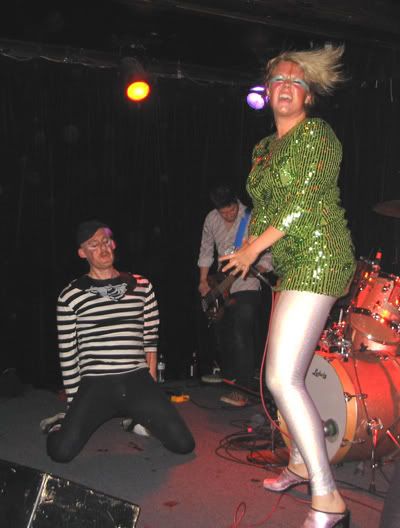 Were this really Friday, and were her band billed with other dance acts, I'm sure the crowd would be responding to her clarion disco call by turning a rock club into a dance club. And there was a front line of dedicated movers there watching Heloise & the Savoir Faire. But most of the shaking going on came courtesy of her (sorta) choreographed Savoir Faire Dancers, who shimmed off the stage and into the open space left by a meek crowd.
Tomorrow Heloise & The Savoir Faire perform at Trannyshack at the Stud, where I imagine the fact that a) it's Trannyshack and b) Tuesday is a little more of the new Friday than Monday will c) ignite the disco inferno it seemed a Monday challenge to produce. Even so, Williams has a voice worth keeping an ear on. Her disco band is kitschy and catchy, but I imagine her soaring range could take her beyond the last three decades and into some really cool futuristic sounding stuff, if she really wanted to travel there.
Random facts: Heloise Williams was asked by Trey Anastasio to work with Phish back in the day. According to her bio, she warbled "Mingus, Monk, and Sun Ra – and [tried] to carve out her own niche in such a big ensemble" before calling it quits.
Heloise & The Savoir Faire's new record, Trash, Rats And Microphones, came out in April on Simian Records, the label started by Lord of the Rings star Elijah Wood.