Last Night: "Vinyl Apocalypse"
Lower Haters (597 Haight St.)
June 6, 2008
Notes and Photos by Edward Paik
Better than: Cassette tapes
Vinyl records are pretty but pompous– they take up too much space and wither away under the sun's heated gaze. But that's exactly why over a hundred of them are crucified to the walls of Lower Haters this weekend. Though not the most practical musical medium, they sure make a nifty platform for painting.
At last night's gallery opening for the "Vinyl Apocalypse," some 40 local artists paid tribute to the vinyl record, adorning the platters with their personal visions of the apocalypse. Everything from Star Wars iconography (blasphemous pink Death Stars sat on the walls) to Sesame Street characters were sketched into vinyl.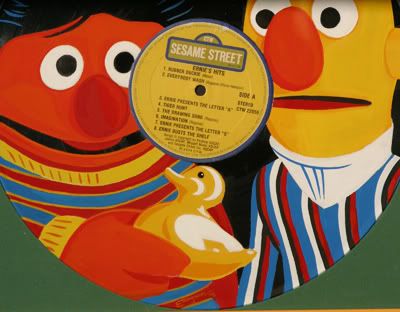 "For the most part, it's urban street art," said Janice Myint, one of the three partners who founded Lower Haters.
Given the creative freedom to interpret the "apocalypse" onto vinyl records, Myint found pure coincidence in some of the colliding perspectives, whether it be aliens, religion or figures in popular culture that found their way onto multiple recycled disks.
"It's interesting to see. You give the same instructions and they go different places with it," said featured artist DIA who created his "Vinyl Tree Installation" from "a shitload" of records he recycled from Myint's collection.
Spanning nearly a 12-foot wall, the project took DIA a reported three hours, with no pre-planned drawing - just pins and a ladder.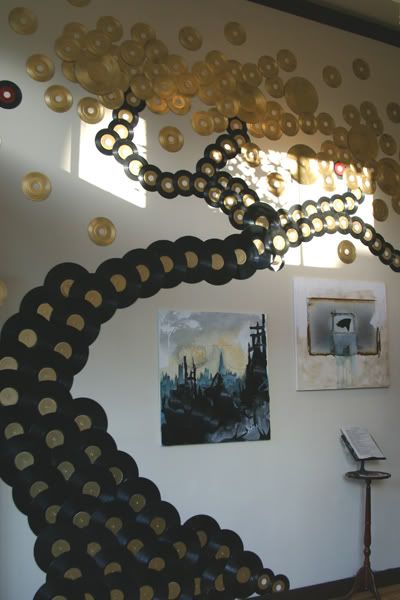 But it's art. Much like Run-D.M.C.'s "My Adidas" and Massive Attack's "Mezzanine" - vinyl records DIA borrowed as teen, and accidentally melted near an open window. Apparently the product of melted plastic, polymer and window can be something to behold.
As DIA sees it: "Anything can be art."
Critic's Notebook:
Random Detail: "Squidaggedon" by Alexander Smith is a melted sculpture of a squid that takes no resemblance to its vinyl origins. More of a real-life squid.
By the way: "Vinyl Apocalypse" continues till August 6 at the Lower Hater.