Chocolate & Chalk Art Festival
Shattuck Avenue, Berkeley, CA
May 31, 2008
Notes and Photos by Edward Paik
Nick Colomabatto was going for a chocolate monster, but the chalk in his hand had a mind of its own and two hours later, a chocolate dragon manifested on the Berkeley sidewalk beneath him.
The artist's chalky creation drew a small crowd Saturday afternoon at the 12th annual "Chocolate & Chalk Art Festival" alongside the other robots, political figures and images straight out of Dr. Seuss books etched into North Shattuck Avenue. Kids below 10 and adults over 40 alike showed up for the festival's Chalk Art Contest.
Event producer Lisa Bullwinkle has overseen the festival from its humble roots on Solano Avenue 12 years ago. What began as a "Chalk It Up For Books" event. which had participants drawing scenes from books, the "Chocolate & Chalk Art Festival" has grown to accommodate chocolate. And what a chocolate smörgåsbord there was - everything from massage chocolate, to choco tandoori chicken and chocolate garlic clusters were up for grabs.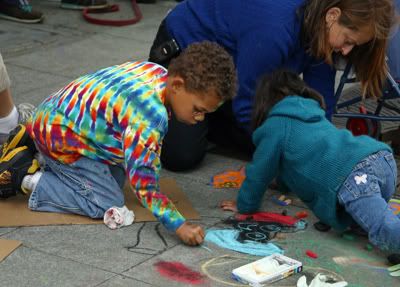 After tasting items on the chocolate menu, Vicki Simon and her 10-year-old son resumed their chalkwork.
"It's amazing," said Simon, a first-time festival-goer. "It brings a lot of neighbors out, and we found some new retail outlets we never knew existed. It makes us proud to live in Berkeley."
Drawing nearly 2,500 to 3,000 people per event, the sidewalk art is judged for the competition then left for nature to take its course. But Bullwinkle believes that although the art is in public domain that people will respect the chalk.
"Chalk is a transient thing," she said. "The nature of it is transient."