Last Night: W.T.F. Nite: Women, Trans/Genderqueer, Femmes
Bike Kitchen (1256 Mission St.)
May 26, 2008
Notes and Photos by Edward Paik
Better Than: Soaring gas prices.
Despite the evening's title, gender or sexual orientation aren't all-important at the Bike Kitchen, Ami Puri says as he goes about "cannibalizing" a set of bicycle cranks. Instead, the volunteer adds, it's the appreciation, the gratitude which comes from having a space of comfort to work on a common passion: bicycles.
On Monday night, the Kitchen's "W.T.F. Nite" for women, trans/genderqueer and femmes got another month closer to its first anniversary. What began as an event for women last August has continued to attract female bikers from around the Bay who relish the opportunity to work on their bikes.
"I don't come to other Bike Kitchen nights because I don't feel as supported as I feel here," Joolie Geldner said. The S.F. local rode her bike to her first W.T.F. event because it was organized by and for women, transgender, lesbians and gays.
"I feel like I can get work done much easier in this environment than in other environments," she said, while working on replacing a torn and tattered bicycle seat. "I believe this environment is more encouraging for me as a queer female."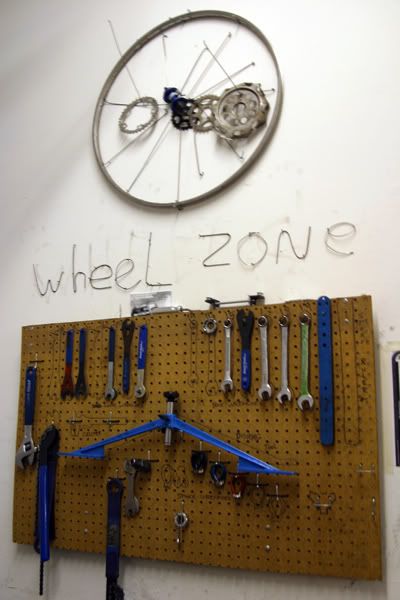 Though the Bike Kitchen boasts a do-it-yourself slogan, volunteers like Puri are handy with the advice. A bicyclist at the age of 5 and a mechanic by the age of 8, Puri knows what he's doing when removing bolts from a crank or recommending specific brakes.
"W.T.F. means making a space for folks that have barriers from learning. And that might be stuff like sexism, or homophobia or trans-phobia, just stuff that take people away from learning about bikes comfortably," Puri said.
Posters against the use of oil sat on the smudged walls in warning yellow beside others that advocated bike use and Polaroids of faces that supported the communal bike shop.
And on a plain white paper atop an exit without an exit, a poem was scrawled in thick marker; its last line stating exactly what Kitchen-goers are looking for: "Freedom on two wheels."
Critic's Notebook
Personal Bias: This reporter prefers bicyclists on sidewalks rather than the streets he drives on.
Random Detail: In Bike Kitchen vernacular, "digging" is the term used to describe the act of scavenging through buckets of bicycle parts organized according to part for convenience. "Digging rights," according to Puri, can come at a price.
By the way: Catch the next "W.T.F. Nite" on Monday, June 30.