(Click the photo for more shots of the festival.)
Capsule Design Festival
May 25, 2008
Hayes Valley Park
By Edward Paik
On the cross-streets of Hayes and Octavia sit signs pimping garage sales, each hanging by a staple to a couple of palm trees.
One reads: "Books. Clothing. Odds/Ends. And Everything Else!"
The sales are on streets beyond this intersection, but a quick glance around will make you feel like you're already there.
As homemade as the as the posters lettered in sharpie marker, journals, clothing, buttons and everything else imaginable were up for grabs at the Capsule Design Festival Sunday afternoon at Hayes Valley Park. An annual design event that takes place twice a year, the festival drew an estimated 6,000 shoppers and some 70 160 independent designers.
"We're doing on-the-spot silk screening," said Andy Olive of San Franpshyco, a brand working with American Apparel.
What started out as a surfing films brand in 2002 has branched out to market itself as a lifestyle, complete with surfing videos and independent clothing.
"Today is really good to get out to the group of people that don't know about us," said surfer and film maker Christian Routzen. "There's a lot of people that we know... but it's the people in the fashion world, outside of our world we're looking for."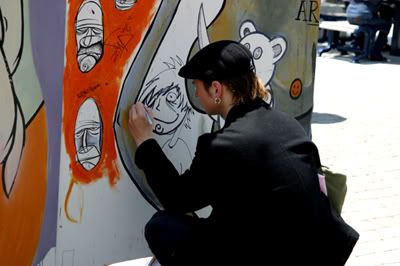 Good Wil and Carlos Varrientos have been to the Capsule before, representing the Pacific Art Collective. "I love the event," said Wil, standing before a steel curtain hosting framed graffiti. "You can get a massive group of designers and artists to assemble in one spot so the community can just come and buy stuff."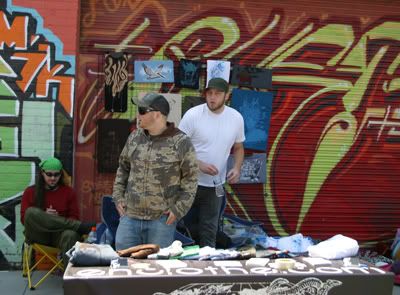 And shoppers replied with open wallets, grabbing everything from jewelry to budget lingerie and scarves, "100% Sweatshop Free Apparel" and hand painted T-shirts with environmental messages. Homemade postcards and hand-sewn dolls lay under tents amongst a crowd holding leashes, beverages and baby strollers.
"I'm always inspired and I really love to see what people are doing, and the small craftsmanship," said Megan Linney, a San Francisco local who has been attending the Capsule every year. "The independent factor is key."