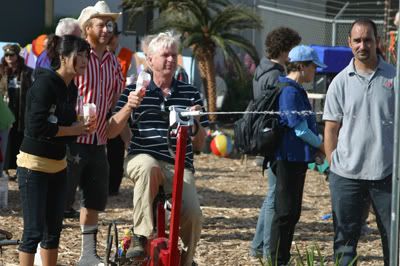 Notes and Photos by Edward Paik
Paul Cesewski's art is pure garbage. And the SF Recycling & Disposal couldn't have been more satisfied -- his four months of labor manifested in a series of fun, functional pieces on display at the "Carnival Mécanique" Friday evening.
On a bed of tanbark and concrete lay contraptions made of tossed-out bolts, bicycle rims and chains, all recycled to form Cesewski's work.
"I wanted to build a carnival midway of interactive sculptures," Said Cesewski, who was one of four quarterly Artist-in-Residence candidates this year that had the opportunity to create art out of trash.
Participants and exhibit-goers were encouraged to "pedal" pieces, including a wheelchair bike attached to a generator and drum cymbals and a stationery bicycle connected to a pumping water hose.
"This particular show is very different in that we have mechanical-assisted devices," said Bob Besso, Recycling Program Manager of NorCal Waste Systems in S.F. "It's a wonderful example of what can be used from waste. It doesn't have to be disposed of, it can make things happen."
Standing in front of the "Fantastic Three," Besso led others to the three blue, black and green disposal bins that are a part of a citywide program. Recyclable materials such as bottles and cans go in the blue bin, organic waste in the green and all others into the black.
"We want to minimize the stuff that goes in the black one," he said.
And Ceseski's art proved that waste could be retooled to have some entertainment value.
Joad Stein and his younger brother Elliot played with the recreated waste, dropping a metal marble from the 12-foot 400-pound "Cyclone" and dousing fire with the "Firefighter Bike."
"This is the first art exhibit that they walked into and they just begin enjoying, and they known how to have fun. It's perfect for them," said Gary, father of the boys.
"I'm a big advocate of the bicycle. Not only can you get around and not pay $4.15 for a gallon of gas but you can have fun and invent," Gary said. "Being on a bicycle and doing things on your own, it just activates another part of your brain and that's exactly what's going on here."