(Atmosphere's Slug and one of his many fans)
Atmosphere
May 8, 2008
The Grand At The Regency Center
Words and photos by Jennifer Maerz
Better than: Hearing Hilary rap to Barack: Most of this garbage I write/That these people seem to like/Is about you/And how I let you infect my life
Hilary and Obama have it all wrong. They're wasting time, tarmacs, and Tuesdays trying to win the hearts and minds of America, because their methods are all out of whack. If either one of our Democratic presidential hopefuls would just follow Atmosphere's lead, they'd have all the super delegates throwing their hands in the air (so long as those super delegates were, like, white weed smokers between the ages of 16 and 26).
See, the first step towards becoming irresistible to your constituency is a little thing called the karaoke flyer. The flyer possesses the magical power of making folks memorize your platforms verbatim.
Don't get what I mean? Just ask Atmosphere's main man Slug.
The MC was in prime palm slapping form for the full hour before his opening act, Abstract Rude, even took the stage last night. And really, the dude was winning over every heart, mind, and photographic device that crossed his path. Looking like the hip-hop cross between Johnny Depp and Mike Patton, Slug kept circling back to the merch table, where nearly every fan who entered the room would shuffle over to ask for a quick pose please. Slug was agreeable to all their requests, throwing peace signs, one-armed hugs, and fake grimaces at every digi-cam and cell phone capturing his image.
He was so approachable I felt it was my duty to find something to approach him about too: so I just asked if this extra friendly behavior was par for every show. He said he tries to hang out with the people at all his stops, although it "gets a little tough at some of the bigger venues." (Atmosphere's producer/DJ, Ant, who was also posing with fans in the main ballroom, told me, "We don't know how long all this [fame] is gonna last, so we have to hang on to it as much as we can.") But Slug also had an ulterior motive with all this glad-handling: he had to distribute the karaoke flyers.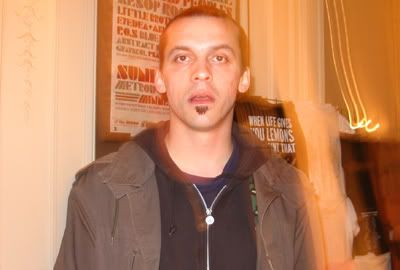 The flyers alerted the kids to Atmosphere's tradition of opening the evening with a little karaoke. And not just any karaoke – in order to get a mic you have to know Atmophere's lyrics well enough to spit them without a teleprompter. So last night we had six different guys doing their versions of everything from "Trying to Find a Balance" to "Fuck You Lucy" (two of those six went the extra yard, mouthing the words to everyone else's songs when they weren't up to bat).
The karaoke move positioned Slug as even more of the people's candidate. I mean really, what other artist calls his supporters up on stage and lets them be the stars for a minute? Who else would pick up the lines their fans flub by joking, "Yeah, I don't know that rhyme very well either"? Who else would let some punk ass teenager tell his crowd to "get your motherfucking hands in the air," -- or, in the case of the guy with the eyebrow and lip ring, ask, "San Francisco State, where you at?" (Obviously, gangsta rap, this was not).
The karaoke stunt kicked off this tour (a campaign trail of sorts to encourage Americans to lay down their votes, in dollar bills, for Atmosphere's latest disc, When Life Gives You Lemons You Paint That Shit Gold) with a primer on issues closest to Slug's heart, dispensed through these volunteers. But when Atmosphere took the stage later, Slug laid down his full MySpace Generation ideas in his own words: a flurry of emotional anecdotes and admonitions about everything from bad break ups and sad baby mamas to syphilis and smarting hangovers. To the young Americans at the Grand, most of whom I'd guess hovered barely above the age where they can legally pick a president, it seems these are the day-to-day concerns it feels good to have someone taking to the pulpit about.
After the show, you didn't need an exit poll to see how the ranks stood in support of this emo-rap leader. Last night the live entertainment race went to Slug – with a close second for his six eager running mates, all of whom knew his platform by heart.