KT Tunstall
The Warfield, 8 p.m.
Review, Video and Photos by Janine Kahn
May 7, 2008
"I never knew a horse and an owl could do that," says an amused KT Tunstall, blinking in coquettish mockery at the two objects that somehow tangled themselves together over the course of her Wednesday night Warfield show. We suspect guitarist Sam Lewis had something to do with it, given his proximity to the props.
If only plastic could talk.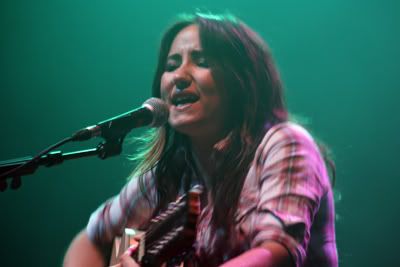 Tunstall's in her element this evening, bouncing onstage in ripped jeans and a plaid shirt with a "Yo yo yo San Francisco!" The stage is set up campfire style, says the Scottish songstress, gesturing to a large woven mat set before the amps (which are in turn covered in shawls). Ever the story teller, Tunstall tells the crowd the mat was found at a thrift store - and speculates it was given away out of guilt, having been wrought "from the hair of Chinese children."
Peppered with offbeat humor, the set starts off with a fan favorite from Tunstall's first album (Eye to the Telescope), "Miniature Disasters." KT weaves in and out of older singles and newer songs like "Saving my face" and "Hold On," which we've ever so kindly captured on video for your perusal - complete with KT's attempt to create a new crowd motion out of her San Francisco audience:
"San Francisco is basically my spiritual American home," says Tunstall, repeating the tale of how KFOG latched onto her first album before she got a record deal. "They called Virgin saying 'We Love your new artist,' and they said 'Who the hell is she?!"
If she ever gives up singing, Tunstall could probably get a career in comedy. Or at the Sierra Club. She felt it was her duty to inform her following of two very important facts: A) The US puts 90,000 tons of steel into the ground every year simply by burying people. ("Recycle yourself! Bury yourself in a cardboard box!" being the take home message.) And B) Most marine life can survive in a tank of blood. Gee thanks, KT.
But before we can ponder her oddball side notes, Tunstall starts pounding her guitar with her fist while her drummer/fiancee Luke Bullen strikes the triangle -- and any real fan knows exactly what's coming next: her heart-pumping, adrenaline-amping "Black Horse and the Cherry Tree." (I gotta tell ya, I've been listening to this song for over a year now and I still don't know exactly what it means, but I love it to pieces.)
Fifteen songs later, Tunstall and crew march offstage only to be begged back on by the packed house. For their devotion, fans got three encore numbers, including Chaka Khan's "Ain't Nobody."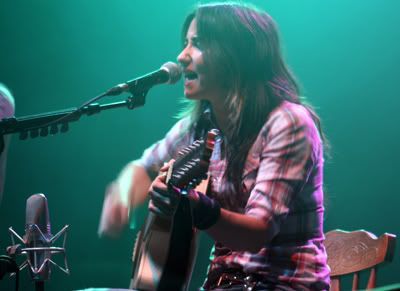 Critic's Notebook
Personal Bias: Tunstall's Eye to the Telescope was once the most-played CD in my car. Then some idiot stepped on it.
Random Detail: There were gnomes on stage. Gnomes. On stage.
By the Way: The opening act, featuring singer-songwriter Paddy Casey, was beautiful. Some of the audience members compared his voice to James Blunt's, but that doesn't do Casey justice.