Death Cab for Cutie
April 23, 2008
The Fillmore
Review by Melissa Baron. Photos by Janine Kahn
Better Than: America's Next Top Model and/or the Real World. A little bit more culturally valuable too.
Download: Archived live performances streaming from Seattle's KEXP. They have some excellent songs from the Cave Singers in addition to some super live Death Cab.
There's something special about bands from Seattle. When they appear on stage it's hard to detect which people are roadies and which are actually musicians. They look understated, like they just walked off the street.
Seattle bands forget the frills and gimmicks, the mustaches, suits and over-synthing that many contemporary artists seem to embrace. Often their music takes a similar approach. When they play live, stripped bare of over processing and ProTools they bring something incredibly special to the stage.
Not even signing to a major label in 2004 could extract the charm from Seattle's Death Cab for Cutie. The four piece comprised front man Ben Gibbard, guitarist Chris Walla, bassist Nick Harmer and drummer Jason McGerr rocked a sold out Fillmore.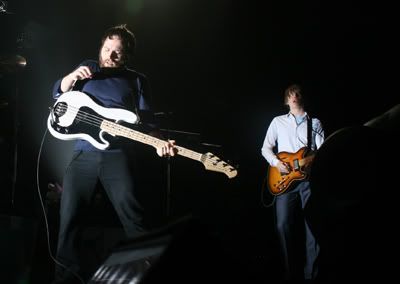 The boys, touring to support their new album "Narrow Stairs," played an impressive set as usual despite the soft and shallow sound of the vocals microphone. They played for a full hour before coming on stage for a half hour encore. They may not dance around much, but the band appears jovial and content in their swaying and rocking. Enough to inspire the whole audience to dance and sing along.
The set list was comprised of just under half new songs with a hodgepodge of old favorites. Yesterday's morning review of the new album adequately summed up the songs to anticipate for the May 13th release. The major fault of the new album lies in the single "I Will Posses Your Heart." Death Cab falls to the same vice as Built to Spill -- the jam. Fans can embrace extended instrumental interludes from songs like "Transatlanticism," but this new single is different. I spent the first four minutes anticipating the moment when they lyrics would finally start. However, the other samples from the new album sounded like a regression into the older sounds of pre-Atlantic Death Cab. Plus, what beats a song called "Long Divison" with a refrain of "remain, remain, remain, remainder"?
I felt generally unimpressed with some of the selection of older songs. It seemed like they catered to their broader audience by playing four songs from "Plans." I eagerly awaited the surprise of a little known old song or a great cover like when I'd seen them previously, but my hopes were never fulfilled. One highlight of the show was the sassy audience response during "I Will Follow You Into the Dark." When Gibbard mentions a "lady in black" an audience member yelled out "that's a nun!" Later when he mentions Calgary a young woman yelled "go Canada" and Gibbard couldn't help but laugh.
Set List: New Song (didn't catch the name), the New Year, Why You'd Want to Live Here, Photobooth, Long Division (new), two New Songs (didn't catch the names, but one was a true story), Soul Meets Body, I Will Follow You Into the Dark, I Will Posses Your Heart (new), No Sunlight (new), A Movie Script Ending, We Laugh Indoors, Crooked Teeth, Sound of Settling, Marching Bands of Manhattan. Encore: Title and Registration, Cath (new), 405, Your Heart is an Empty Room, Transatlanticism.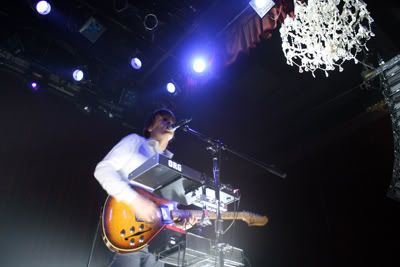 Openers the Cave Singers set the crowd up perfectly for Death Cab. The Seattle three piece on Matador records play an impeccable blend of folk and acoustic rock. Somehow they've captured the essence of Bob Dylan and combined it with alt country. They released their first album "Invitation Songs" in September 2007 and an EP called "Dancing On Our Graves" in February. In addition to channeling Dylan they make use of everyone's favorite instruments -- harmonica, melodica and washboard.
Seattle bands just may cancel out the seventy billion days of rain a year.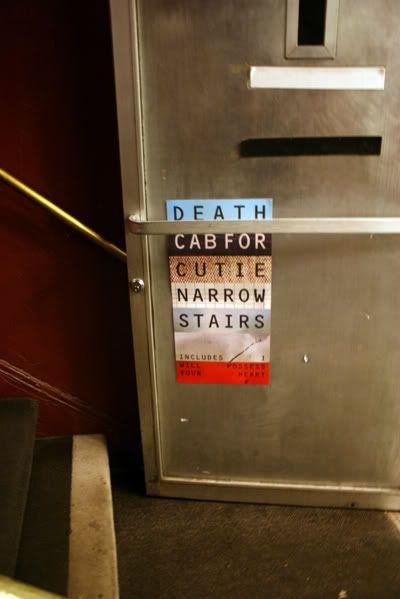 Personal Bias: It's entirely possible I have seen Death Cab for Cutie upwards of 20 times.
Random Detail: San Francisco native Daniel Handler, also known as Lemony Snicket, was spotted at the show. He interviewed Gibbard as part of the City Arts and Lecture series. At the lecture Handler and Gibbard covered the Magnetic Field's "Why I Cry." Watch it below.
By the Way: Death Cab will be back June 21 in Berkeley and obviously, the new album comes out May 13.