(Fuck Buttons)
Fuck Buttons and Caribou
April 23, 2008 at the Independent
Photos and review by Jennifer Maerz
Better than: All the other "Fuck" bands.
The Independent was sold out last night for the combo of Fuck Buttons and Caribou. As the club was still filling up, though, the lighting guy was having a chat with a photographer, who wanted to make sure it wouldn't be too dark when Fuck Buttons took the stage. The lighting guy just shrugged. "I don't know what to light anyway," he joked. "It's just gonna be two guys doing this [here he made the universal motion for scratching turntables] anyway."
Yeah, that's the bummer about electronic shows sometimes. A lot of times it's just a guy – two if you're lucky – just doing this over a laptop. And then you just have to hope that the beats get the crowd kinetic enough that you can watch your neighbors when you're bored with the stage.
The thing about Fuck Buttons, though, is that they're more than two men and an iMac. Their music is downright menacing, an avalanche of white noise with flurries of static through which cold winds of melody occasionally tunnel.
The Bristol, England duo stood at opposite ends on the Independent stage, between them of a table filled with mad scientist gadgetry – an open suitcase vomiting chords and effects processors and synthesizers and a computer keyboard and, yes, an iMac, but one covered in little stickers. And on the other side of the table, more chords and more effects processors and a single drum and a kiddie's microphone which the trucker capped Button would shove in his mouth and scream into as they performed. This was a lively set from the band, full of jumping around and banging on surfaces and twisting of knobs, lacking any banter between songs because there was no between songs, it was just one unbroken uncoiling of their record Street Horrrsing. The performance was mesmerizing, the intensity of that sick sound at full volume carrying across the audiences through waves of repetitive rhythms tucked just under the aggressive squalls. The lighting guy did his job well, too, bathing the act in oranges and blues, or flickering white projector-like beams (the white lights worked in tandem with the music occasionally, making parts of the show feel like a fluorescent bulb on the fritz come to life). And when the show was over, the band just stopped, flipped off the volume, and left the stage with a little wave.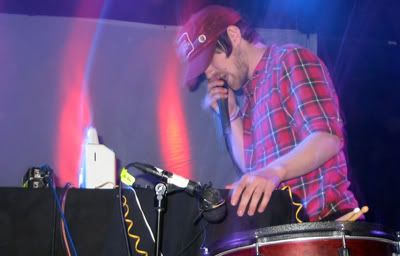 It was a hard act to follow, and unfortunately Caribou's full band live was only slightly more entertaining than a man and his turntables. Maybe I've just listened to Andorra too much, the 2007 album that whipped electronic pop into wispy cotton candy. But even with two drummers and guitarists – and mastermind Dan Snaith on keyboards, drums, guitar, and recorder, and impressive one-man-band in an of himself – the songs just hung there without any traction. Each romantic shoegazery pop song merged into the next, with the exception of "Melody Day," which has more pep to its momentum. At least the lighting guy had his work cut out for him here – Caribou brought with it a projector's worth of movies, collages of polka dots and melting colors that gave us somewhere to rest our eyes, since the packed room was nonetheless low on movement.
Personal bias: I probably listen to Street Horrrsing a couple times a week at least. Perfect artful buzzing aggression to block out the unartful buzzing of a morning Muni commute.