Enon with The Blacks at Bottom of the Hill
April 13, 2008
Review by Liz Iversen
Photos by Loren Risker
Better than: Throwing your own donut party.
Download: The Blacks' "Raincoat" and "Back to Black."
Nearing the tail end of their world tour, Philadelphia-based trio Enon rocked the weekend to a close at Bottom of the Hill's "Donut Party" (Woo! Free donuts!) last night.
There to kick it off were SF indie rockers The Blacks, fronted by vocalist/guitarist Luisa Black and backed by drummer Gavin Black and JDK Blacker—tambourine extraordinaire. With angry PJ Harvey-style vocals, straight, heavy rock beats, and the most enthusiastic tambourine player I've ever seen (I'm not joking—he splayed himself on the floor and beat the damn thing), the Blacks refused to let the Sunday-night-lull downgrade their energy.
"Raincoat, "with its catchy guitar riffs and glissando wails ("Your love is like a hurricaaaane, turning me out of controoool!") was my personal favorite. And even if crowd members wouldn't sing along when handed the mike, by the end of the set, bobbing heads signaled piquing interest.
Enon took to the stage with the fuzzy rock sounds of their latest album, Grass Geysers…Carbon Clouds (released last year). With screaming vocals and distorted guitars, "Mirror on You" set the tone for the evening.
The group played a number of songs from their new album, including the fast-paced "Dr. Freeze" and "Piece of Mind." But most memorable was the haunting performance of "Pigeneration." After opening with an impressive extended drum solo, this song gave Toko Yasuda the chance to show off her vocals with intense soaring melodies over sustained guitars.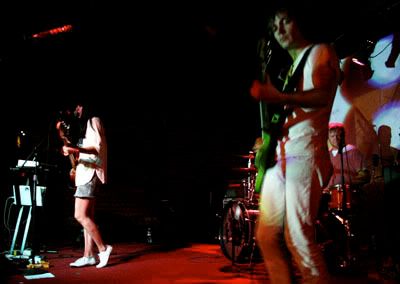 Through most of the night, the crowd remained relatively subdued, but during "Ghost of JonBenet" (off their new single), the racing tempo and John Schmersal's piercing high notes got a few crowd members waving their arms in the air.
The band stockpiled oldies for the encore, when they returned for "Disposable Parts," "In This City," and "Knock That Door." Freed of her bass guitar, Yasuda danced as she sang to the synth pop of their earlier days. With Schmersal on back-up vocals, the harmonies of "In This City" were so moving that when the song ended, satisfied crowd members screamed, "Yes!" In closing, Enon performed the danceable "Knock That Door" from the 2005 compilation Lost Marbles and Exploded Evidence, and with some full-on rocking out on the drums, it was a fun end to the show.
Critic's Notebook
Personal bias: Nostalgia—I saw Enon years ago in Columbia, MO.
By the way: There are still quite a few stops remaining on this monster tour. Enon hits Salt Lake City Wednesday before heading to Colorado, Iowa, Minnesota, Missouri, and Ohio.