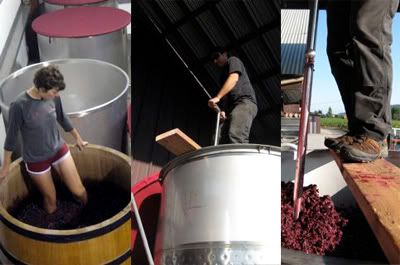 (Read about Ella's first week at Unti here.)
By Ella Lawrence
Since fermentation has started, I have doubled my food intake, gained 8 pounds, and taken in 2 notches on my belt. The refrain in my head continues, even after I finish my 10-hour days, "Pump over, punch down. Pump over, punch down." Let me explain:
All of the fruit that was picked last week has begun to ferment, so instead of giant tanks filled with just grape juice and skins, we have giant tanks filled with frothing, bubbling, CO2-erupting, yeasty-smelling wine-in-progress. And with all of the action going on in the tanks, the wine needs to get mixed around twice a day. Easier said than done when what you're dealing with is six tanks, each at least twice as tall as a person.
To punch down, I balance a two-by-four across the top of the tank, climb a ladder with a person-sized (and -weight) stainless steel paddle over my shoulder, dig the paddle into the three-foot thick cap of grape skins, shove down with my foot on one of the paddle's arms as I try not to fall off my other foot into the tank where an ugly death would surely await me, and repeat. Six tanks. Twice a day. I'm like the Hot Dog on a Stick girl on steroids.
In addition to this feat of physical fitness, there are also several other wine-related sports I engage in on a daily basis. They are: hose-wrestling (more challenging when the 10-foot hoses are filled with wine), power-washing (10 points for every black widow spider I drown, 15 points for a brown recluse. My score to date: 65), hand-sanding, industrial painting, and stomping grapes with my feet.
We are doing some whole-cluster fermentation, so the grapes go directly from the sorting table into a giant bin without passing through the crusher/destemmer. They have to be treaded on during this process, and thereafter once a day (twice a day when they start to ferment). Luckily there are surf booties, because cold grapes and scratchy stems between your toes are not nice. I'm hoping this becomes less gross when fermentation starts and this swamp of Syrah warms up.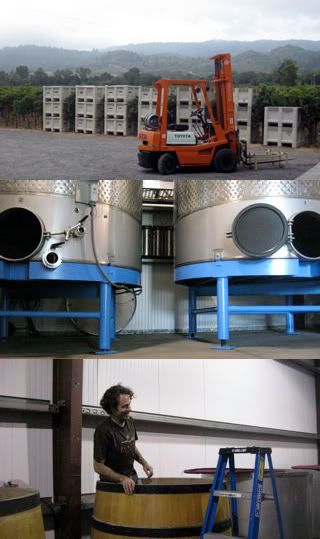 With all this work going on at the winery, all the harvest craziness and the tasks to keep me busy (and there are plenty), what's really going on here is that I'm learning to appreciate things better. I never knew I could get such satisfaction out of cleaning industrial-sized, stainless-steel equipment--but it just gets so shiny! Last month I could have never pictured myself on my back, wedged underneath a tank the size of an upended Airstream, perfectly content to scrub black mold so that I could re-paint the tank's feet. And as I work the heavy paddle for the punchdowns, I'm so focused that it's the most interesting thing in the world.
I haven't been well-acquainted with manual labor until now, and if I get bored, there's no popping over to Facebook until I feel like working again. This is extremely satisfying. With only one task at hand to focus on, I have both nothing to think about and everything to think about for the three hours it takes me to, say, power-wash a cellar floor.
(Check back next Friday for the next installment of Ella Lawrence's Unti Vineyard Chronicles.)