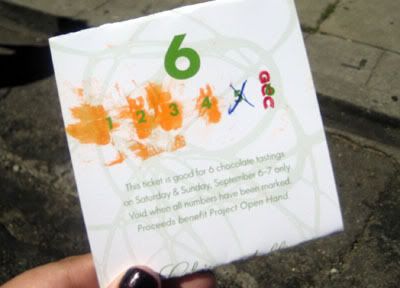 The 13th Annual Ghirardelli Square Chocolate Festival
Taste-Test Pavilions; Beach Street
Saturday, September 6, 2008
Notes and Photos by Janine Kahn
Better than: Being neck-and-neck with hippies watching Ziggy Marley at Golden Gate Park.
Saturday afternoon was blistering but beautiful as we hopped on the 47 and made our way to Ghirardelli Square for this year's much-publicized chocolate festival. Most of the action was taking place on Beach Street, so we wandered down to will call and picked up a pair of tasting cards ($10 entitled you to 6 tastings, and $20 got you 15 - we snapped up the former and had a grand 12 tastings between us).
O'Neill's Irish Pub won the first mark on my card with a smooth cup of Irish Coffee, and the nice ladies from Guinness handed us freebie bottle openers (which would become handy come Sunday). The second mark went to dark chocolate almond Laceys from Desserts On Us, which melted marvelously on our lips and all over your humble reporter's hands, making it tricky to take notes during the Earthquake Ice Cream Eating Contest, which you can read about here. Photos of the aforementioned treats and the rest of our tastings of choice under the fold...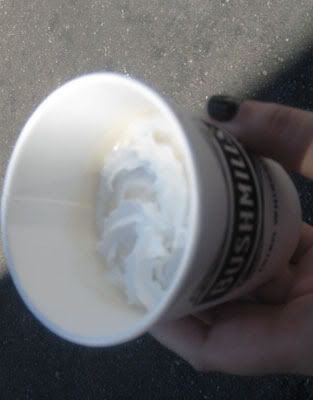 Taste 3 went to the San Francisco Toffee Company for a blissfully brittle piece of milk chocolate almond toffee. Taste 4 was a chocolate-less shot of Boomerang Australian Vodka (which my partner wished to compare with his drink of choice: Ketel One.) "This one won a taste test against Ketel One" the lady at the booth assured us, and after trying it we wondered why. Others opted to try it with Ghirardelli's chocolate sauce, and we imagine it made all the difference.
Tastes 5 to 9 went to Ghirardelli, for bars of dark chocolate Mint Bliss, Espresso Escape and my personal favorite, milk chocolate Peppermint Bark. (The two massive dark chocolate bars cost us two tastes each...they currently reside in our fridge, but probably won't be there too long.)
Taste 10 we had to wait in line for. Everyone seemed to want a chocolate and raspberry tart from McCormick & Kuleto's. And with good reason! The creamy consistency of the filling, coupled with the cream and crust, was a treat to the taste buds.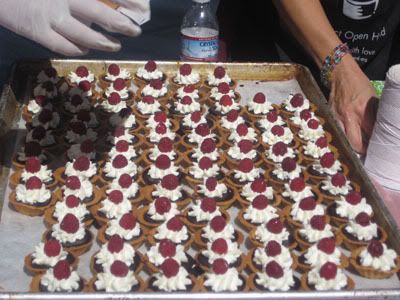 Taste 11 went to Young's Double Chocolate Stout, a creamy beer mixed with chocolate malt which smelled just as good as it tasted. We were surprised that we enjoyed it so.
And the last taste was another festival favorite, assorted chocolates from The Tea Room. We sampled Chamomile & Honey in white chocolate (ooh), Organic Masala Chai in milk (ahh), Honeybush Caramel in milk and Earl Grey in dark (which was probably our favorite).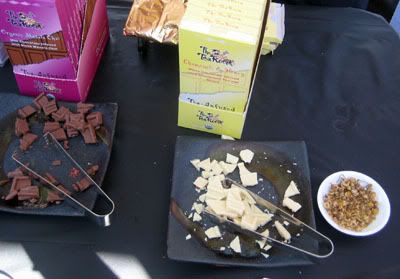 At this point our palettes were dry from the chocolate overdose, so we gladly accepted the free glasses of Iyemon Cha iced green tea and strolled down to the water, where San Franciscans smarter than us were taking a dip.
Critic's Notebook:
Personal Bias: This event was lovely, but couldn't hold a candle to Chocolate Salon, which I crashed in April.
Random Detail: I've never seen so many adults gather around a balloon-twisting clown for their own enjoyment. (Did someone pass around the pot truffles and not share?!)
By the Way: It took all our will (and the complaints of my cute leather sandals) not to jump into the amazingly enticing bay. Everyone was sunning and taking in the uncharacteristic weather.