The 13th Annual Ghirardelli Square Chocolate Festival
Earthquake Ice Cream Eating Contest
Saturday, September 6, 2008
Notes and Photos by Janine Kahn
Better than: Eating chocolate at a square whose name one can actually confidently pronounce.
First off, let me say that the name of this little contest had little to do with Friday's late night quake. Ghirardelli's Ice Cream and Chocolate shop serves a pretty well-known Earthquake Sundae, composed of eight scoops of ice cream, a slew of toppings and whipped cream. For the occasion, nuts and cherries (and bananas - unless my eyes deceived me) appeared to be the "hurdles" the contestants would face.
A sizable crowd formed at the base of the Beach Street stage at 2 p.m., but only five animated souls were chosen to devour the treat, which the folks at Ghirardelli say ideally feeds four or more. Maurica from Alameda, 13 (and apparently going on 14 this week), a tiny lass in pink, was picked first thanks to her flashy balloon hat and some supportive pals who yelled "It's her birthday!" She looked justly intimidated when the MC picked David, a portly dude from Sacramento, next.
Soon Marlene from San Francisco (whose pretty white dress we feared for), Tiffany from Martinez and Simon - who rode his bike from Daly City and was hungry - took the stage. The last addition to the team was Daniel, last year's Earthquake winner, who had supposedly slurped the concoction down in 11 minutes. (Which sounded like a long time to us till we saw the beast.)
Asked if he'd endured brain freeze last time around he said "it actually kinda melts" though "your face gets numb."
"Hands behind your backs!" yelled the MC and some contestants raised their eyebrows. "Guess I forgot to mention that part," she continued with a grin. Frowning at the cherry stems, the youngest contestant asked if the group could remove 'em before digging in. The host thought that would be smart.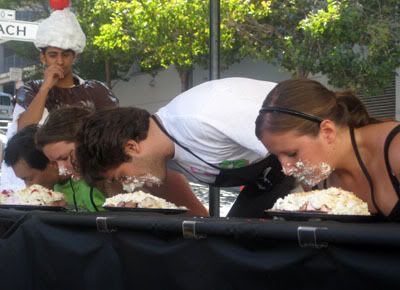 What happened next was chaotic but beautiful, with the pretty dainty ladies and unshaven men alike smashing their faces into the quake, bobbing up and down and devouring the eight flavors of ice cream as they melted into each other. Sloshing and slurping till they hit platter paydirt.
"Lick it up!" cried the MC, and time stood still as the six complied. In the end it was pretty close between David, Simon and Daniel - but the defending champ claimed the title and the massive basket of Ghirardelli chocolate in the end.
The less exciting sundae-eating contest for kids was next, so the crowd dispersed, taste-test cards in tow, to get their share of the confections...which I shall be blogging about shortly. Again, there will be plenty of pictures.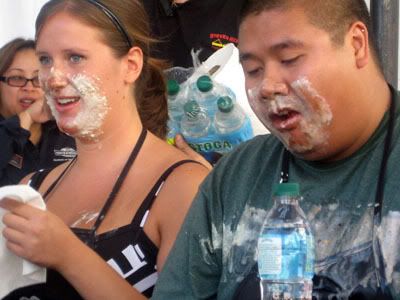 Critic's Notebook
Personal Bias: Alas, alack, I am lactose intolerant. So my stomach lived vicariously through the iron-gutted contestants.
Random Detail: Daniel had a very cute Cheshire Cat shirt on. Oh, and there was this poor soul dressed as a hot fudge sundae looking kinda lost onstage. (See the photo below.)
By the Way: We're pretty sure David (guy in green) finished his serving at around the same time Daniel did, but we didn't have the microphone. Everyone took home something, so I guess it wasn't too big a loss.