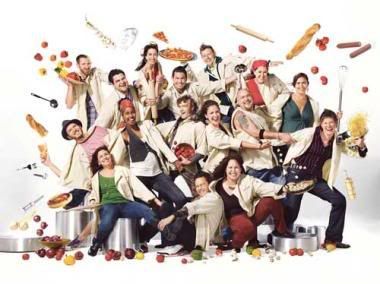 By Meredith Brody
Downtown's Commonwealth Club is self-described as "the nation's oldest and largest public affairs forum, bringing together its members for events on topics ranging across politics, culture, society, and the arts." The Club frequently offers food-related programs (including one tonight, with Marion Nestle, professor of Nutrition, Food Studies, and Public Health at New York University and author of What to Eat, in conversation with Davia Nelson, one of NPR's and San Francisco's Kitchen Sisters).
Last week's enticingly titled Top Chefs Tell All featured three of the San Francisco-based contestants from Season Four of Bravo's popular Top Chef reality show: Zoi Antonitsas, formerly of Coco 500, and now a chef/restaurant consultant with Zazu restaurant in Santa Rosa; Jennifer Biesty, also formerly of Coco 500, and now a restaurant consultant and chef of Savage Feast Catering; and Ryan Scott, formerly chef at the now-defunct Myth Café in San Francisco, and now Executive Chef and Partner at Mission Beach Café in San Francisco. The hour-long panel was moderated by Marcia Gagliardi, creator of the local Tablehopper blog. (Erik, the brash tattooed executive chef of SF's Circa restaurant, who washed out in Episode Three, is apparently not surfing the post-Top Chef wave.) In a difficult three weeks for San Francisco viewers, Zoi, Ryan, and Jennifer were asked to pack their knives and go in weeks 5, 6, and 7.
But tonight we're here to hear from the SF warriors. I'm surprised when Marcia starts with generic, general questions that are not Top Chef related. She first asks how to become a chef – I want to know why they tried out for Top Chef in the first place, and how they feel about it now, since their lives have changed considerably since the show: no one is in their former jobs, and Antonitsas and Biesty, who were candid about being a couple while on the show, are also no longer together, as rumor has it.
But instead she asks Jennifer for advice on how to become a chef. Jennifer advises befriending the chef at a restaurant you like, and working in the kitchen for four days or a weekend to understand what kind of commitment it takes, and then, instead of culinary school, put that $50,000 in the bank and work for free or try to get paid in restaurants in Barcelona or Paris.
Ryan is asked what inspires him. "Eating around, cooking with other chefs, reading magazines, books, watching TV." Ryan is apparently champing at the bit to talk about Top Chef, because he says that, during the production of the show, they cooked dinner for each other at night and talked about food.
But instead of jumping feet-first into Top Chef territory, Zoi is asked to share a tip she hasn't told the public before. "Don't panic, it's food, you're making food to eat – all the other stuff is garnish. Care about the product, who makes it, where it's from. And treat a head of garlic with as much respect as foie gras." Ryan says "Don't be afraid of salt." And Jen tells us "Go out to eat. Eating is the answer."
More generic questions follow. Their biggest disasters in the kitchen? Ryan alludes to a Top Chef demo in Denver, with fellow contestant Antonia, when the pickled cherry tomatoes they were working on blew up and sprayed the front row of viewers with hot oil. Zoi stuck a tray of bacon she'd burned under the stove at Coco 500, when Jen was the chef and she was terrified of her. Jen reminisced about when she was interning at Sazerac in New Orleans, and dusted the dessert soufflé dishes with salt instead of sugar. Hint: she says "taste everything before you cook with it."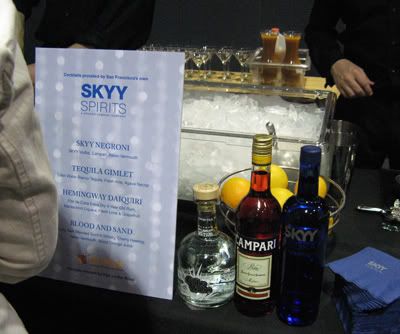 How do they react to negative reviews? Ryan says "Since doing the show," – what show? I'm still waiting to hear about their Top Chef experiences, and getting increasingly anxious as time goes by – "we take blogging at ease. Take it with a grain of salt. Everyone's a critic. We feed people on a nightly basis, and satisfy them. You have to grow with it." Zoi says "Everyone has an opinion and everyone has a right to their opinion. It's discouraging when one person has a large voice. We're people. We make mistakes, too. We have good days and bad days. You don't hear the good as much as the bad." Jen says "Since the show, you're so criticized, and conscious of what your peers are thinking, as well. It kinda makes you not care as much." She alludes to a time at Bizou (Coco 500's name in a previous incarnation) when a mediocre review from the San Francisco Chronicle's Michael Bauer haunted her for a long time, so much so that when Coco 500 was opening, she didn't want her name to be listed. "He's powerful, " she says, "he can really destroy a place." Ryan, whose Mission Beach Café, open since May, has apparently not yet been reviewed in the Chron, says "I know what he looks like!"
Still avoiding the Top Chef elephant in the room that I thought I was here for, Ryan is asked about his favorite comfort food. "Cheese, beer, pizza. Cold pizza with spicy ranch dressing." Jen agrees – "I love it on cold pizza. Toasted bread with hummus and ranch – Richard tried it." Could that be Richard Blais, the molecular gastronomy representative on Top Chef, one of the final two, who famously lost by over thinking his concepts for the final meal, as he himself admitted?
Why, yes it could, and the conversation briefly veers towards Top Chef territory: Ryan says he hasn't watched the reunion show yet, to general astonishment. "I've been busy!" He tells us that the taping of the 45-minute show took 4 ½ hours, and "Eric and I had beers the whole time."
But the Top Cheffers are quickly steered back to generic questions. How often does Zoe get to cook at home. "Not much." She likes ordering Asian food to go, from Ton Kiang and Osha Thai, for noodles. Ryan's favorite cheap eats includes a $4 slice at Za (1919 Hyde, 771-3100), a banh mi from Saigon Sandwich (660 Larkin, 474-5698), and tacos from La Taqueria (2889 Mission, 285-7117). Jen's favorite dishes for parties? "Pasta cocktails, salted peanuts." She perks up when she remembers her Savage Feast catering is doing a pig roast for an upcoming event: "an 150-pound pig on a spit." Ryan recommends "peanut butter pretzels from Whole Foods."
Racy time! What does Zoi cook when you want to get some one in the mood? "Oysters. Caviar. Raw things. Fruit. Not too much garlic or onions. No beans. [laughter] No porterhouse." "Wouldn't you rather eat after?", says Jen. The very telegenic Ryan says "I don't think I've ever cooked for a date." I guess he doesn't have to.
And on and on. How can ordinary mortals access the best local purveyors that professional chefs have access to? Ryan mentions the Berkeley Bowl, where he was inspired by a recent display of nine different types of cucumbers to create a cucumber salad with Bulgharian feta. Zoe recommends farmers' markets, and not just local ones, but driving out of town to have an experience. Jen says farmers will tell you when their products are best, and says she likes the Alemany Market.
The clock is ticking down. There's 15 minutes left of the precious hour, and we finally get our Top Chef on. Marcia asks what's the needed to succeed as Top Chef, and Ryan jokes "You're asking us that?" Jen says "I was really naive. I hadn't watched it, and I didn't know how unreal it is. You really have to stick out, personality-wise."
Wounds are still sore, apparently. "Zoi shouldn't have gone home that night." "There are people in back that (mimes gesture of puppeteer)." Ryan, still smarting from Episode 1 of Season Four, when the challenge was to reinvent a classic, says "Know what chicken piccata is before you go in."
Now the floodgates are opened, and the comments come thick and fast. "We're not actors." "You're completely out of your element, under a tremendous amount of pressure." "My performance was affected by my anxiety." "I'm not in a kitchen, I'm in a studio." "You're typecast – the bitch, the scientist, the all-American girl, the hot guy." Would they nominate any up-and-coming SF chefs to be on the show? "I wouldn't nominate anybody." Jen's sous chef was thinking of applying, but he got cold feet.
Zoi thinks it shouldn't be people who are already successful, but Ryan thinks you'll see James Beard and Food & Wine award winners on the show. "It was hard to leave work, and hard to come back. We're too stressed out. A younger person can take digs easier."
Who did they want to win, after they themselves were kicked off? Ryan says "Jen, Antonia, and Stephanie," the eventual winner, "she does not believe in herself, but her flavor profiles are insane. Her restaurant's gonna rock!" Zoi thinks "Jen should have won for sure," but also mentions "Steph, Antonia, and Blais, definitely all really talented awesome chefs." And Jen says "Dale could have been in that crush, should have been in Top 5, we all should have. Steph is very talented." Zoi says "she showed the most range."
When asked "What are Tom and Padma really like?" we learn that there's no chit-chat with the hosts and judges beyond what we see on the show. "At the A-List Awards," Ryan says, "Tom and I had a nice twenty-minute conversation about the presidential elections. He's a good guy."
Zoi and Jen say "At the A-List Awards, Padma was more human," and "I'm OK with both of those – they're part of the show."
Ryan allows that "Gail's a sweetheart, and I love Ted to death." But Zoi says "There was no relationship with them on the show. There was a separation, there was a wall."
Alluding to a disaster Spike had in the next-to-the-last episode, Marcia asks "Is it impossible to get a good crusty sear on a frozen scallop?" Spike is apparently not a favorite with the trio: mutterings have been heard about "wearing a hat" to make yourself stand out. "He went after the chef [Chicago chef Rick Tramonto of Tramonto's Steak and Seafood, that was bad."
"What's the one thing about you that we didn't get to see on the show?" Jen says "More of me!" (Laughter.) "I'm a goofball who likes to joke around in the kitchen." Zoi says "I have a point of view. The show isn't very West-Coast-centric. It's more East-Coast-centric. A friend told me 'I knew you didn't really have a chance. Unless you get Alice Waters as a judge. They won't go for a sliced tomato with oil and salt.'"
Ryan says "I didn't get to show diversity. But it has catapulted us to notoriety. So our restaurants will be full. Which is good in this economy."
Where do you guys see the innovation in food happening now? Jen says "New York is becoming more like San Francisco in the way it approaches product, more green. Spain is taking that on, in a different way." Ryan thinks "Daniel Patterson at Coi is pushing the envelope a lot", and he loves Wylie Dufresne's WD-50 in New York. Ryan wants "sustainability," meaning not just recycling, and not over-ordering and throwing stuff away, but longevity for his restaurant. Zoi thinks "there's a lot of other small cities in the U.S. that are doing innovative stuff in their localities, not just star cities. I want to have a place that is not a burden. Try to do it with integrity, and do it yourself. Chef-owners have the restaurants that I respect the most."
After the show, Jen says "I changed stuff at Coco – cooking weird stuff. I realized it wasn't my style. I played around with some science stuff." Ryan says "It changed us personally. You questioned yourself. It was just such a great learning experience." Zoi, who has seemed the most disgruntled and subdued all evening, says "I did not have a good experience. When I came back I was not in a good place. You feel like you've failed. You have to remember what you really like."
Would you do it again? "Hell, no!" is Zoi's heartfelt reply. Jen says, "I would do it again. Hell, yes." Ryan says, "I'd do it again, but I'd cook like myself, not like the person next to me." Jen says, "I'd be a crazy person. I'd start fights!"
We learn that all of them preferred the quickfires to the elimination challenges, because they got to work alone, and weren't judged on the work of their teammates. "This is not my team," they point out, "we're competitors." Also, there's less time to stress out. Ryan concludes: "Cooking for Daniel Boulud is no joke."
I think that the 45 minutes given over to generic questions vs. the 15 minutes spent on Top Chef should have been reversed, but it's time for the audience members who've bought $55 tickets for a several-course meal over at Ryan's Mission Beach Café to board their bio-diesel bus. The rest of us line up for SKYY Vodka cocktails and cluster around plates of cheese and crudités (oddly, no small plates provided for us, alas), thrown in with the $15 for members, $25 for others ticket price. Not quite Top Chef fare, but there turned out not to be quite enough Top Chef on the menu for one reality show fan, anyway.