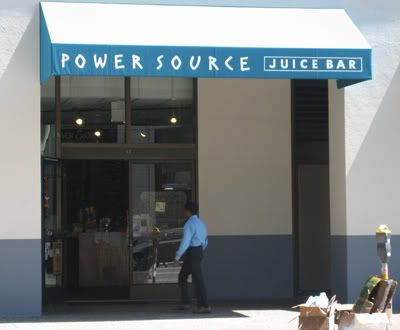 By Catherine McCulloch
Sandwiched between the chain eateries of the financial district is Power Source, a vegan-friendly juice bar and café. It's a convenient option for a working vegan who doesn't have time to pack lunch. The prices are a bit steep, as you would expect of any café in the area, but the food is fresh and fabulously nutritious!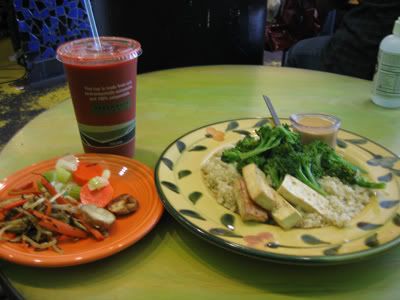 The place is small and the seating is limited but the friendly servers and brightly colored walls make for a pleasant lunch environment. I ordered a build-your-own-bowl with quinoa, steamed broccoli and tofu flavored with a miso ginger sauce. I also sampled their mung beans and oven-baked sweat potatoes. The meal was filling and the vegetables were fresh and delicious. The protein from the quinoa and tofu definitely gave me some much needed energy that lasted throughout the day.
I wanted to try a Power Source juice and the girl working behind the register suggested "motor oil," a mixture of carrots, beets, celery, spinach, cucumbers and parsley. I loved it! I was so excited by my discovery that I took it home with me for my Berkeley friends to try. They were not as enthused about it as I was. In fact, they thought it was disgusting. So I guess the motor oil isn't for everyone, just those of us with more refined taste buds...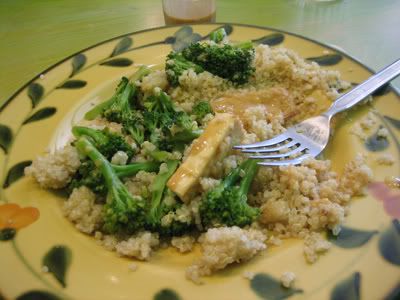 This mostly-organic café is family-run and most of its produce is locally grown. Their to-go containers, utensils and cups are biodegradable and they offer a discount to customers who bring their own containers. The café is powered by renewable energy it purchases through a company called Village Green Energy. It was featured in Common Grounds Magazine this month for its efforts in sustainability. The café serves breakfast and lunch Monday through Friday. Doors open at 7 a.m. and close at 3:30 p.m. I will definitely be returning there shortly...maybe even tomorrow!
81 Fremont Street
(415) 896-1312