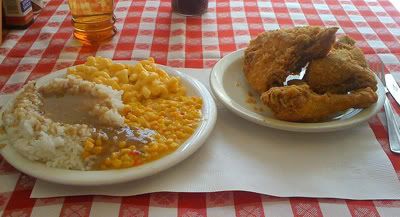 (Photos by Ed "Mr. Peabody" U. via Yelp)
By Meredith Brody
By accident last week I found out that one of my favorite restaurants had closed. Even worse, it's one of my father's favorites, and I knew that eventually I'd have to tell him about it.
My father and I have a regular lunch date on Fridays, and we gravitate to small, ethnic places all over the East Bay. We eat around Albany, Oakland, Emeryville, Berkeley, Hayward, even dashing over to San Francisco upon occasion. My father tends (as I do) towards the small ethnic eateries, but we throw a fancy new upscale place into the mix now and then. Notable successes have included Jerusalem Organic Kitchen (1897 Solano Avenue, Berkeley, 510 525-7888), Tacubaya (1788 4th Street, Berkeley, 510 525-5160, www.tacubaya.net), 900 Grayson (900 Grayson Street, Berkeley, 510-704-9900, www.900grayson.com), Indus Village (1920 San Pablo Avenue, Berkeley, 510 549-5999), the Mi Pueblo Food Center (1630 High Street, Oakland, 510 532-2654), Champa Garden (2102 8th Avenue, Oakland, 510 238-8819, www.champagarden.com), Bo's Barbecue (3422 Mt. Diablo Boulevard, Lafayette, 925-283-7133) and many more, including the four Oakland places I wrote about for the current SF Weekly.
Once, when I suggested the Townhouse, aka the Townhouse Bar & Grill, in Emeryville (5862 Doyle Street, Emeryville, 510 656-6151, www.townhousebarandgrillcom), a large place with an extensive menu including salads, steaks, and pasta, because I'd had a lovely, relaxed time with some friends enjoying drinks on its big wooden deck (with a view of the parking lot), he demurred: "I think we can find something more interesting."
I had to drag him there, insisting that the experience would be charming even if the food was not particularly adventurous. He ended up enjoying some Buffalo chicken wings (he loves fried chicken, about which more anon), I washed down three little mini-cheeseburgers made absurdly rich with caramelized onions and gorgonzola with a minty mojito, the sun filtered down on us through leaves and there was a delicious breeze.
But his favorite place of all, the one we went to usually twice a year even if we rarely otherwise repeated a place, was the Southern Café, a not-particularly-charming-looking-place way out on MacArthur in what is called the Dimond District of Oakland. An ungainly l-shaped space, gray industrial carpeting, uncomfortable metal chairs, framed pictures of sports guys on the walls, a TV that was usually tuned to some game, and pretty slow service (especially at night). Cheerful red-and-white-checked tablecloths, however.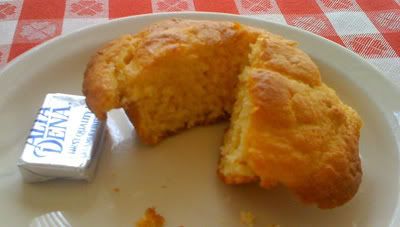 But oh the food! Especially the fried chicken. I once forayed as far afield on the menu as far as the liver and onions, which I make better myself at home. But usually I would get the fried chicken, three big freshly- made pieces – which explains part of the wait -- brought on their own plate, and my father would get the fried chicken wings, four also on their own plate.
The Southern Café was what is known in the south as a "meat and three" place, so you'd also get to choose three sides from a list of many. I was always sad that they didn't have mashed potatoes, especially because they made good gravy, but I ended up looking forward to the rice and gravy I had instead, with – usually – sautéed cabbage and candied yams. My dad went for the rice, the cabbage, and whatever kind of beans (pinto or red, never both on the same day) they had. And he always said the same thing when they brought the two plates brimming with food: he'd look at the vegetable plate and say "That's a meal in itself." They'd bring us a couple of little homemade cornmeal muffins, with a foil-wrapped pat of butter. Bliss. Inevitably, we'd each take some food home in a Styrofoam box. (I wrote about the Southern Café, briefly, in a Weekly piece in 2006.
So I thought I'd throw in another mention of it as the one place we'd eat at again and again while writing about the other four excellent Oakland eateries, and I Googled its name quickly to throw in its address, and there was the dreaded word CLOSED, and clicking around I found various testimonies as to the fact that there was a sign put up last April (!) saying that the place was closed for repairs or renovation, but nothing had been done to the place.
Oddly enough on the same day the New York Times had done a piece (on the front page!) about old-fashioned soul food restaurants going out of business. This had the effect of making me feel worse. As did the recommendation of one friend to try Nellie's in Oakland (I had, I mentioned it in the same piece in 2006 as I did Southern Café, and it's not a patch on the Southern Café). And also the intelligence from another friend that another Oakland soul food place named DeClancy's Welcome Table that neither of us had tried, though it had been "on the list" for a couple of years, had apparently also bit the dust, in similar fashion to the Southern Café (a "closed for renovation" sign, with no sign of renovations. But at least their phone still rings, unlike the disconnected one for the Southern Cafe).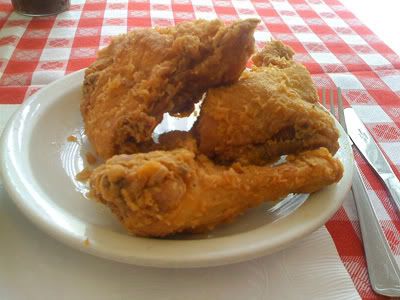 When I was talking to my dad about the perfect fried chicken we'd never have again, the same thought popped into our minds at the same time. The last time we'd lunched there, we'd remembered while driving away that we'd never received our cornmeal muffins. We'd watched enviously as a table of four guys in business suits, one of whom was regaling his table with long stories about managing his diabetes, got theirs, and then promptly forgot about them as we got our steaming juicy crispy crunchy fried chicken and dug in.
No matter, we said, we'd tell them about it the next time and they'd give us double muffins. Ha.