By Catherine McCulloch
A country-style trattoria that serves one of the most highly recommended vegan brunches in the bay area? Only in a place like Berkeley could a place like Fellini exist. Brunch is served every Saturday and Sunday from 9:30 a.m. - 1:30 p.m. In addition to all of the vegetarian-vegan choices the restaurant uses locally raised free-range eggs and fresh organic produce. I often frequent the Fellini's organic coffee bar for its superior espresso and creative concoctions. But the cherry on top is the brunch cocktail menu. Who doesn't need a screwdriver at 9:30 in the morning?
My first impression of Fellini was that it is a bizarre place to brunch. With its blood red walls displaying Italian film posters, dark wood and fairly sizable bar it looks like a restaurant where you would go for a romantic Italian dinner. Maybe it's the large windows and spacious seating that attracts the weekend brunch crowds. Oh, and the food. I've spoken to the owner of Fellini on a number of occasions and to tell the truth he comes off as a bit of a nut job. But, he gets the job done and he does it well.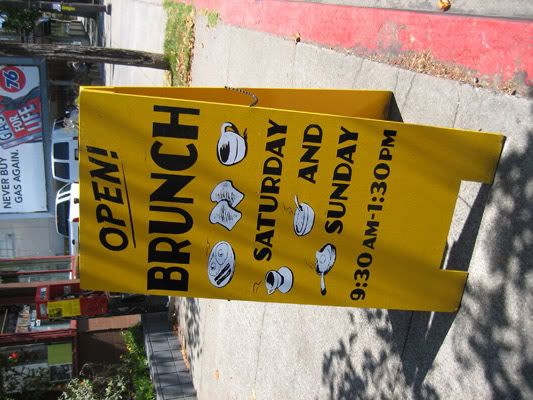 Early Sunday afternoon Fellini was crowded with couples and families brunching. There was a small wait and the food could have come out a little quicker but I am always critical of service when it comes to breakfast. My general rule when I wake up is food NOW! But, it's always worth the wait to start the day off with a hardy well-cooked meal.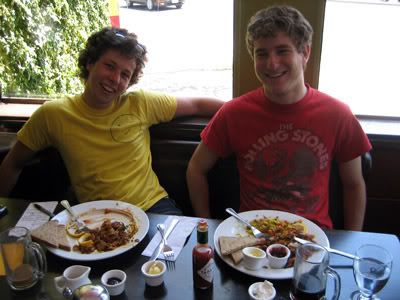 I ordered the veggie scramble and was slightly disappointed in the results. The majority of the dish was composed of home fries and tofu. Where were all the vegetables? I'm not that big on home fries so maybe I shouldn't talk but these ones didn't blow my mind. The tofu scramble was pretty good and extremely filling when coupled with the potatoes. My friend ordered the vegan sausage scramble which was more palatable but in essence the same dish as mine with a sprinkling of vegan sausage.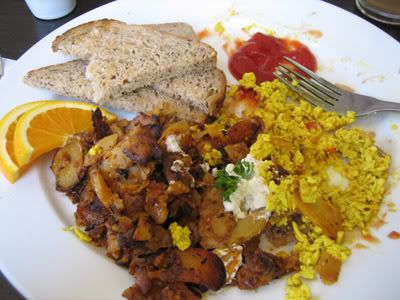 Positive aspects of the dish included fresh squeezed orange juice, vegan sour cream and earth balance for my toast. Sometimes its all about the little things that make a meal come together. Other vegetarian-vegan options on the menu included: vegan french toast, tofu mushroom scram, tofu pepper and pesto scramble, vegan florentine, vegan benedict and a vegan cheddar scramble with soy bacon. All of these dishes are prepared in vegan-only pans.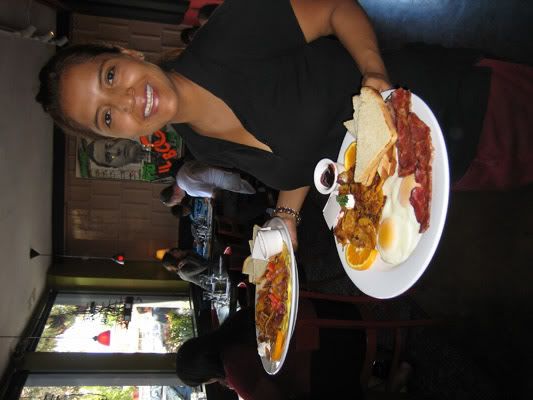 In the end, it was a filling and enjoyable dining experience. But personally, I would rather invite my friends over for breakfast then spend $9 on potatoes and tofu. But that's just me.