By Catherine McCulloch
I'm rooting for this "underdog" restaurant located in San Francisco's Inner Sunset. Underdog is an organic sausage joint with good vibes and an eco-friendly message - that, and the menu is predominately vegetarian/vegetarian-vegan.
The owner of the place says her inspiration for the restaurant grew out of a desire to find a cheap vegan meal in her neighborhood. And -bam!- Underdog was born. Now you can go to the Sunset and get a vegetarian/vegan hot dog with all the fixings for $3.95. Not a bad price for a nutritious-delicious and totally vegan meal!
Now let me tell you why I'm a fan of team Underdog. First off, the restaurant is adorable and seems well cared for. Its interior is clean and the walls are dressed up with cute posters, including pamphlets listing the benefits of organic eating. Second, there is a vegan working behind the counter. I can't tell you how many times I've gone to a vegan restaurant where most of the servers can't even tell me what vegan means! The people working at Underdog really support the restaurant and its organic message.
Here's a sneak peek at the food fare...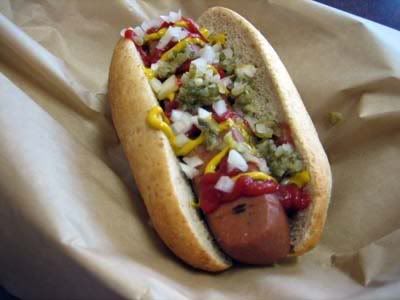 Vegetarian Sausages: Veggie Tomato Basil, Veggie Kielbasa, Veggie Apple-Cranberry and Veggie Chipotle. Vegan Sausages (made with non-GMO soy and wheat): Vegan Dog, Vegan Polish, Vegan Italian and Vegan Bratwurst.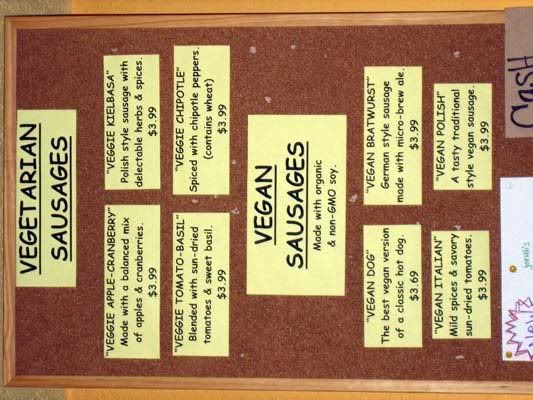 The sausages are baked rather than boiled which helps them retain their flavor. In addition to all of these options the place is chock-full of organic vegan goodies. All of the salad dressings are vegan, and according to the cashier, the vegan potato salad is "Super out of sight!"
I decided to try a plain vegan dog on a crispy wheat bun and dressed it up with a slew of organic condiments: ketchup, mustard, onions, relish and sensational-sauerkraut. It was filling, tasty and comforting. On such a cold and foggy San Francisco day it was nice to walk out of a restaurant with a full and warm belly.
Underdog is a warm, fun, family-friendly neighborhood hot dog shack that made me feel right at home. A vegan meal doesn't have to consist of a compilation of side dishes or break the bank. At Underdog the vegetarian comes out on top!
1634 Irving St
San Francisco, CA 94122
(415) 665-8881