By Catherine McCulloch
Good vegan ice cream is hard to come by…if you don't live in San Francisco! Since I became interested in vegan food everyone has been telling me to go to Maggie Mudd, which supposedly hoards the best vegan ice cream in town down in Bernal Heights.
I decided to make the trip on a Wednesday afternoon and found Maggie Mudd's, on one of the neighborhood's many quaint streets, bustling with business. There was a small line and people were seated at every table in the tiny shop. The five people ahead of me somehow translated into a 15 minute wait. Maybe they should have more than one person working behind the counter? But, I really can't complain because it took me a long time to decide which ice cream I wanted from the extensive vegan options (the flavors rotate everyday).
For dairy-free ice cream, one has a choice between a soy milk and coconut milk base. Other vegan items on the menu are marked with a V. And there are sundaes, shakes, drinks, sauces and toppings (the sherbet is not vegan) thusly marked. Maggie Mudd also makes custom vegan cakes that you can have delivered. The place is a little pricey - $3.80 for a small cup and $3.95 for a large. But the ice cream is wonderful and the servings are pretty large.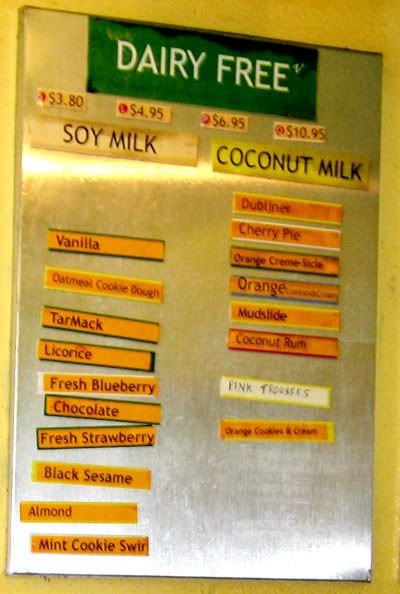 I sampled the TarMack flavor made from coconut milk, the soy milk-based almond flavor, blueberry and oatmeal cookie dough ice cream. The TarMack, a chocolate and peanut butter concoction, was intense. It was like biting into a frozen fudge brownie with peanut butter swirls --just delicious. But I was in the mood for something lighter. The almond was next. Light, smooth and tasty, it definitely went down easy. Then I sampled the oatmeal cookie dough. I was excited to taste real oats mixed in with the ice cream, but I settled on the blueberry on the basis of its sensational flavor.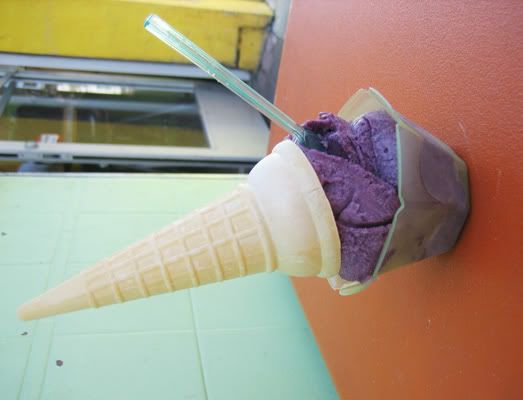 The great thing about ice cream is that it seems to make everyone happy. Going out for ice cream is about the experience. You can buy decent vegan ice cream in the grocery store but there is something to be said for going out with friends and sharing in the pleasure of it all.
If you don't live in the Bay area or can't make your way to Bernal Heights, then Mudslinger's Freestyle, Maggie Mudd's store brand ice cream, is sold in grocery stores such as the Berkeley Bowl, Whole Foods and Rainbow Grocery and at vegan restaurants in the area like Herbivore.
Also, remember that a lot of gelato and sorbet is vegan. You can find a variety of other vegan ice creams in grocery stores. (For instance: Larry and Luna's Coconut Bliss, Klein's ice cream, Wheeler's Black Label Vegan Ice Cream and Tofutti.) And as with most any food, you can always make it at home - check out the book Vice Cream by Jeff Rogers.
903 Cortland Ave.
San Francisco, CA 94110
415.641.5291