(Click the photo for a drink by drink slideshow)
42BELOW Vodka World Cup
Cafe Du Nord
July 22, 2008
Notes and photos by Crystal Akins
Last night, Cafe Du Nord hosted 42BELOW's vodka world cup where 11 Bay Area bartenders competed for a trip to New Zealand where their drink would compete internationally. After enduring a shattered "42BELOW" ice sculpture, unsanitary tastings and a perverted MC, a shy Joel Baker emerged as last night's winner.
But let's meet the contestants:
Adam L: aka 8-Nap (because he takes eight naps a day when surfing in Indonesia, apparently), concocted a drink he called "The Cure." Pushing six ingredients, this ginger-infused drink gained positive head nods as judges were granted their own drinks and the crowd sipped communally from one cup with their straws. Adam L, who also works at Teatro Zinzanni, dressed accordingly, and was the most verbose out of the bunch. His fans loved him as they chanted his name and yelled about how hot he was.
Joel Baker: was last night's winner as he mixed drinks to Danity Kane's newest hit, "Damaged." His "Pear Sonata" reigned supreme in the hearts of the judges and crowd. Topped with a foamy whipped cream (of some sorts) and grated cinnamon, this pear explosion looked like something straight out of a Martha Stewart magazine. Hailing from San Francisco's Bourbon & Branch bar, Baker will go on to compete in New Zealand. During his photo-op, he awkwardly held his winning certificate, balloons, and of course, a bottle of 42BELOW.
Victoria D.: what do you say about someone who has been in the industry for nearly 20 years and forgets to put one of her ingredients in her drink? This petite and sunburned lady had beautiful presentation but upon serving her drink, "Summer Shade," realized she skipped out on the white grape juice. Judge John Cicero tried to console her by stating he liked the drink, but that didn't stop her from looking perturbed all night. Maybe not so many drinks before you compete next time?
Billy Watson: described his drink as a "taste explosion," and called it "Lili Kini". When asked about his drink he responded, "It takes the bikini off!" Watson's drink was an interesting mix of passion fruit juice, sweet and sour, lime juice, among other ingredients. I'm still trying to figure out where the taste explosion kicks in; it just tasted sour.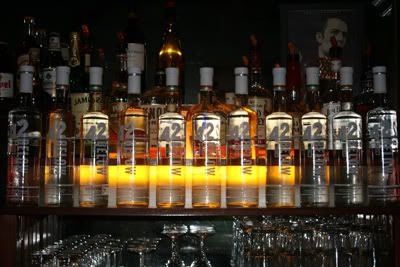 Robin: tried to give me a false name during our pre-event interview, calling himself George Johnson. The only word out of Robin's mouth when describing the "New Zealand Mist," as he called it, was "refreshing," because he probably couldn't think of any other adjectives. For such a pretentious man who even grew a mustache for last night's event, you'd think his drink would back up his sass instead of tasting like a diluted sauvignon blanc (except that's exactly what it was).
Eric Castro: must be a minimalist. Castro's drink, "The Feminine Mystique," consisted of a meager four ingredients and reminiscent of lemonade. Castro described his drink like this: nuanced and complex, but refreshing. The crowd said this: good, a touch sweet but tasty. In any case, Castro furiously shook his drinks, winning the best shaker award in my eyes.
Joe Parrilli: with his flannel button-up cuffed at the sleeves, Parrilli shook his drink "The Libertine" with both fists in the air. "You should have seen him when he deconstructed a gin and tonic. It was f---ing unreal, man," Francis Kelly said to Judge Cicero. The Libertine was mainly about limes...in all forms. Lime juice, lime leaves, candied lime garnishes all mixed with Bundaberg ginger beer.
Chris James: or Chris Jones according to his misspelled name placard came to the world cup from Mars Bar. His drink? His concoction, "The Summer of Love"...was ok.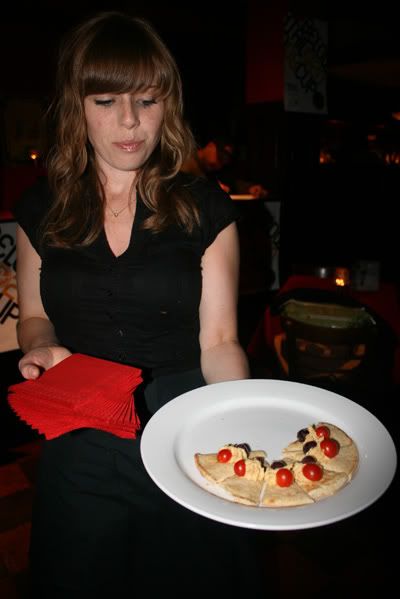 Ronie Colli: was the only bartender to use an herb - thyme. Another misspelled placard identified Colli's drink as the "Roster's Tail," instead of the Rooster's Tail. Ronie's drink looked promising, and he even chilled his glasses with ice prior to pouring his drink. Despite his endeavors, Colli's citrus gelatin and calcium infused foam melted before anyone had a chance to drink them. Honestly, I am no drink connoisseur, but it tasted like dirty water.
Felix Parra: stormed in like a hurricane and was so frantic it was jarring. His drink: Bob's Your Uncle forced judges to take cover from the drink's debris during Parra's hysteria.
Jackie Patterson: strolled up the counter with no official name placard but told the crowd her drink was called "Bees Do It." Using 42BELOW's honey flavored vodka and a pollen spiced rim, she topped off her drink with a sprig of lemon rind and showcased her drink to the judges Vanna White style. There were officially 10 contestants, but somehow, Patterson brought the final count to 11.
Overall, the event coordinators excelled in transforming Cafe Du Nord into a modern club aesthetic that was completely catered. While bartenders had the option of using any poison of their choice, every single drink included one of the three 42BELOW flavored vodkas. A total of nine winners around the nation will be selected to represent the States on September 9th.