Veronica Salazar of El Huarache Loco
By Meredith Brody
Veronica Salazar, 36, chef-owner of El Huarache Loco, grew up in Mexico City in a restaurant family. They've owned and operated Caldos Rivera for 75 years. So when she moved to San Francisco with her husband in 1995, she found work in a number of local restaurants: Zebulon in SoMA, the Rain Forest Cafe at Fisherman's Wharf, Ghirardelli Square, and many coffee shops.
All the while, she was locally famed for the authentic Mexican food she was cooking for her family and friends, often the kinds of street foods that they missed and couldn't find in San Francisco. Eventually friends asked her to do some informal catering for parties and weddings. One of Salazar's customers told her about La Cocina SF, a small business incubator aimed at helping women to start their own food businesses, and when she heard La Cocina mentioned again on a talk show on Univision, she went there.
Taquitos from El Hurache Loco - prepared at La Cocina
"The La Cocina kitchen hadn't opened yet. But when they told me about all I needed – a business plan, licenses, insurance – I almost stopped right there. In Mexico we just take a table into the street! But they sent me to Alas [Alternativas para Latinas en Autosuficienca, part of the Women's Initiative for Self Employment], where I took a six months' course in how to start a business – I didn't even speak much English at the time. And then I returned to La Cocina, in May of 2006, and they helped me with everything, including finding a space at the Alemany Farmers Market and Antiques and Collectibles Market, where we are every weekend, cooking the genuine street food of Mexico City that I grew up with. We also do some catering – weddings. My staff is all family. I'm proud of our ingredients: we use organic masa, more good flavor, and the meats are prepared mostly with just salt and not too many other spices and ingredients so they taste of themselves."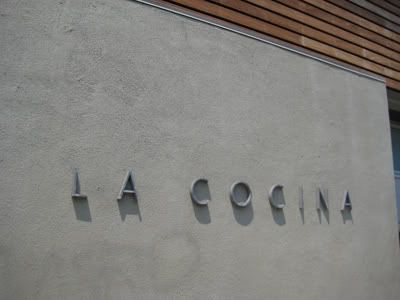 La Cocina, a small business incubator in the Mission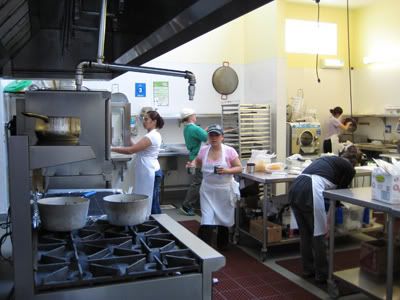 At work in La Cocina's commercial kitchen
Heating Lyle's Golden Syrup for baked goods
El Huarache Loco at the Alemany Antiques and Collectibles Market, Sunday
Part of El Huarache Loco's extensive menu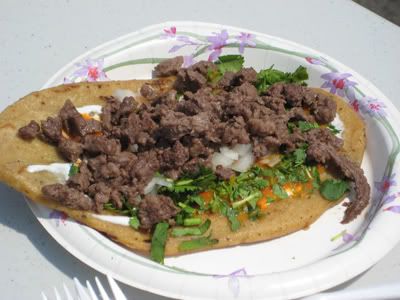 Huarache with carne asada - unbelievable!
Lamb barbarcoa taco - oh my god!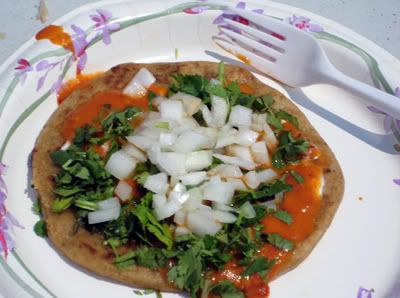 Gordita stuffed with pork - amazing!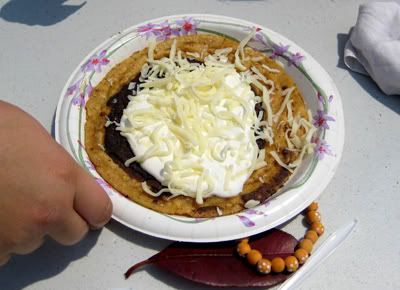 Quesadilla with lots 'o sour cream - cheesy!