Gavin rolls up his sleeves. Click the photo for a full slideshow.
Slow Food Nation Victory Garden
Civic Center
July 12, 2008
Notes and Photos by Edward Paik
Mayor Gavin Newsom has the sights and smells of Victory on his front lawn -- the best seat in the city.
"I get to watch [the Victory Garden grow] every day outside my office window. Right there," the Mayor said pointing at City Hall from the Civic Center. "Literally."
He's been watching it evolve over the past two weeks, when Slow Food Nation first began rolling out the grass carpet across the street to install its 10,000 square foot Victory Garden.
What is a "Victory Garden," you ask? Well, the concept started out as a "food garden for defense" planted during the World Wars for sustainability and morale building. But local citizens, tourists, farmers, advocates and politicians did not meet Saturday for the same purpose others did the first time a Victory Garden was planted in front of City Hall in 1943. According to Slow Food Nation, "Victory" now has new context.
"'Victory' means growing food at home for increased local food security and social equity," said John Bela, the garden's program manager and architect in a statement.
Instead, the harvested crop will be donated to local food banks and meal programs around S.F. to provide healthy alternatives to those with limited access. San Francisco has nearly 100,000 people in the city who go hungry due to the lack of sustenance, let alone nutritious foods.
Some 150 volunteers gathered Saturday morning to add the final touches to the spread, and to plant the edible garden. Consisting of 40 diverse heritage greens from lettuce to bok choy, squash and pole beans, the organic produce will be remain within the Mayor's view for a complete harvest season -- till the eve of the Presidential election.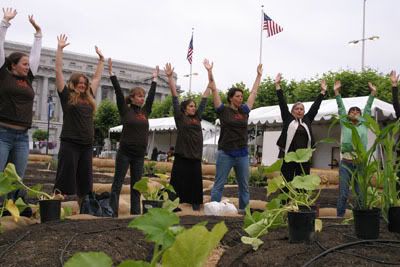 "It's all about equality of imagination," Newsom said. "Money is out there to provide a solution. Money is not a problem."
Numerous corporations that included Whole Foods and Sunset magazine donated everything, from the soil to the plants, but the event wasn't an ad. "It's not going to seem like a trade show," said Anya Fernald, executive director of Slow Food Nation '08. "[Corporations] see it as an investment in a consumer demand for a different kind of movement."
For some volunteers, the importance lay on whether Newsom would extend the program beyond its Sept. 1 harvest. "We'll have to see," the Mayor responded, on more than one occasion.
Though he didn't appear in overalls, Newsom did roll up his sleeves, hand his Venti Starbucks beverage to an assistant, and reach for the dirt. Alongside S.F. first lady Jennifer Siebel and Slow Nation Food founder Alice Waters, Newsom helped fill one of many planting zones with lettuce and other collard greens.
"I'm a suburban kid from Marin," Newsom said." I used to do this all the time. Just not very good."
Designed by Bela over the course of six months, the bed layouts are drip-irrigation systems within a hay enclosure. "This is all human made, human powered garden so we can explore a different garden vocabulary," he said.
Newsom also added, during his keynote speech, his role in sustainability - from taxicabs running alternative fuels to privatized "green" buildings. "It's a long-winded way of saying, 'That just ain't good enough,'" he added.
The Mayor's support and location are crucial to the garden, which will expand to 15 spots throughout the city by summer's end, said Fernald. "The garden is just dignified and challenged by that building. Conversation between the vegetable garden and City Hall is very symbolic that seated power is important to this message."
"This is the city's front yard," she said.
Waters concluded the event by noting the religious gathering held across the Civic Center. "They're preaching the revolution. We are too. The delicious revolution."
Critic's Notebook:
Personal Bias: Cute as you look as a gardener, stick to your day job, Mr. Mayor.
Random Detail: After observing numerous birds effortlessly fly over the animal-prohibiting enclosure this reporter asked John Bela, the Victory Garden's manager and architect, whether scarecrows would be implemented. "Can't really control the birds, they've been eating the California rice straw," he said. "I really like that scarecrow idea."
By the Way: "We've been turning away volunteers for the past three weeks," said Anya Fernald, executive director of Victory Gardens. "We 'sold out' about 10 days after we announced it. Everybody wants to be involved."