The Sentinel
37 New Montgomery (between Market and Jessie)
As of yet, no phone or website.
Open Monday through Friday from 7 a.m. to 2 p.m.
Review by Meredith Brody; Photos by Janine Kahn
We wish the obsessed, adorable, hands-on chef Dennis Leary could clone himself. The world would be a much better-eating (and cuter) place.
Somehow Mr. Leary, who cooks virtually every dish that his happy shiny customers consume at Canteen, a onetime down-on-its-luck diner attached to the Hotel Commodore, has found the time to redo a onetime down-on-its-luck cigar stand across from the Palace Hotel and next to the House of Shields on New Montgomery.
The space, no bigger than a minute, alludes to its provenance with a few colorful cigar graphics above the folding wooden doors that form its façade, and by using a few cigar boxes as containers on its chic new black-and-white counter. Said burgundy wood counter fronts an entirely open kitchen, framed in clean pale subway tile. (But we think some of the food might be made off-site and brought over.)
We showed up exactly a week into its life (open Monday through Friday for breakfast and lunch), and ordered almost everything off its teensy "provisional menu." And WHAT provisions! We loved everything: the cool, minty, fresh pureed green pea soup, spring in a plastic to-go dish; luscious thick cuts of smoked salmon layered with horseradish cream and watercress on fresh bouncy rye; succulent pork tenderloin with gruyere and caramelized onions on ciabatta; and an unusual oily, mildly spicy chicken salad, studded with golden raisins and pine nuts. The pork sandwich came with purple cabbage slaw; the salmon sandwich and the chicken salad with what we thought was our own spring secret, an almost naked uncooked heap of white corn kernels cut off the cob. The salad also got a tiny rhubarb crisp dessert, and a miniature hunk of brioche-like bread, befitting its $10 tariff – the sandwiches were $7.50 and $8.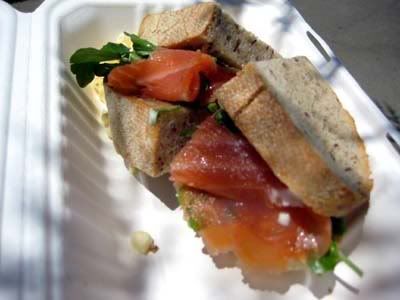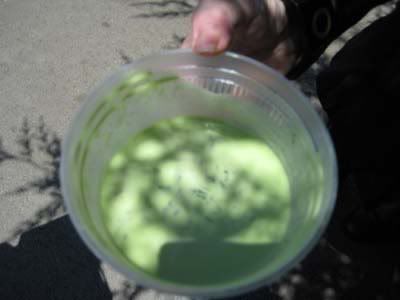 We drove off to a downtown beauty spot (the park bordering China Basin, near the office), with perfect cappuccino and espresso in hand, wishing (a) we had a cold beverage, too, and (b) it wasn't quite so damned windy. But god that guy can COOK! His flavor combinations are classic, yet inspired. Clean and delicious food. The Sentinel is now our new favorite sandwich spot. Not to mention that chicken salad. But with a daily-changing menu, will we ever taste it again?
No matter; we'll follow where Leary leads.
PS: Leary tucks fortune cookies into his to-go bags -- a cute touch. It's his literary side coming out (as evidenced by the books, one a volume of French poetry, propped up by the cash register as inspiring decor). But they're not necessary. We've already had our good fortune by dining there.