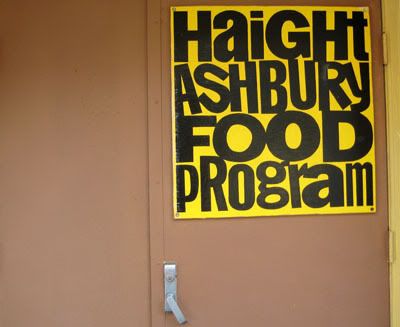 It's pretty disconcerting to see a place you walk by every morning featured in the news when the report is a sad one. Over the weekend, the Chronicle informed me that the Haight-Ashbury Food Program that sits a few blocks away from my Waller Street sublet closed its doors on Friday, with volunteers emptying out the pantry and handing out lists of other food kitchens to the hungry instead of hot bowls of soup.
Signs of the looming recession or gross mismanagement? Sounds like both.
Speaking of the Chron, lots of nasty and irrelevant comments posted on the article. One reader laments:
"Not surprised in the least at the brutality of some of the responses here. The spirit of Saint Francis has left San Francisco for good. Another kind of spirit has taken it's place. The city I was born in would never have tolerated the levels of human suffering I see on the street today. Nor would we have had much patience with the vicious, judgmental voices that would yank food from a person's mouth because they were "not deserving." Shame. The city needs a new name to fit it's ugly selfishness. It doesn't deserve the old one."
More photos of the soup kitchen (taken Saturday) behind the jump. --Janine Kahn