Here it is, another post-nonstop-weekend Monday. This time we ignored the beckoning of the cool old junk that must be bought at Sunday's ever-addicting Alameda Flea Market. But there were other things that lured us out of our cozy den. Like chocolate. Lots of it. And doilies with nasty words crocheted into them - which go hand in hand with a certain comedian chick who doesn't care if you think she's racist (as long as you think she's thin). And, oddly enough, the stench of a thousand peacemakers lured some of us outdoors too.
G'morning, San Francisco. This is All Shook Down's Monday Morning Hangover.
On Friday, Nine Inch Nails found new ways to torture and enthrall their fanbase at the same time. Clubs Editor John Graham reports that the band hid behind a sparkly screen for multiple songs and that the audience wasn't treated to many old faves over the course of the Oracle show. In other news, Trent Reznor appears to have evolved into a beefier creature:
"The skinny little angst-muppet who used to whip his fishnet-clad body across the stage has been replaced by a brawny, all-business dude who looks more like Henry Rollins (sans tattoos) than the guy who used to drag guitarist Robin Finck around by the hair."
Be sure to read the rest of John's NIN review.
Also on Friday: The earth moved under our feet. Our Ashley Harrell felt it. I didn't. Did you?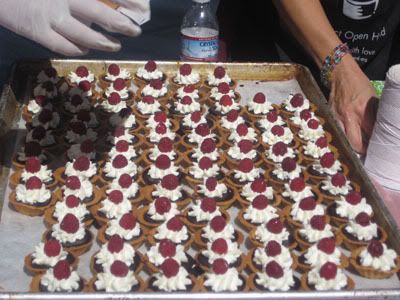 Speaking of Earthquakes, on Saturday, we bused over to Fisherman's Wharf for the 13th Annual Ghirardelli Square Chocolate Festival and observed the "Earthquake Ice Cream Eating Contest" in which five brave souls and one returning champ sat with their hands behind their backs and went down on the eight-scoop concoction. It was delightfully messy and inspired those in attendance to stuff their own faces with many a chocolate-covered option.
We covered a good number of things on Saturday, but it sounds like Masha Rumer had the best time at Daly City's Classic Bowling Center for Lebowski Fest. Around a thousand people (most in wacky film-inspired costumes) showed up, and the flavor of the evening was a little like this:
"The Lebowski Fest recipe: One part pot-bellied men in bathrobes and scraggly facial hair, one part tipsy women in red wigs, eight parts White Russians. Mix it all in, pay up $30 and you'll end up somewhere that feels and smells like an off-track-betting booth on a Monday afternoon. Welcome to the Lebowksi Fest Bowling Party in San Francisco, dude."
Read the rest here.
Saturday was opening night for Laura Mappin's "When Doilies Go Bad" exhibit at the Mission's Soap Gallery. We stepped in and marveled at the crocheted penis banners and this pair of balls thrown over grandpa's comfy chair. Full review to follow, but do check out the photos we took here.
Also on Saturday: Jackie Lopez made her way through the tight Power to the Peaceful crowd at Golden Gate Park and met some lovely, artsy souls. But she did wish she had a deodorant stick to pass out more than once. Also see Sam Heller's photos.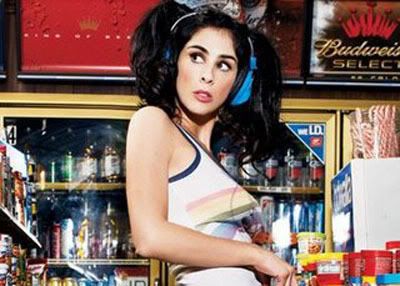 And on Sunday, Oscar Pascual took some sneaky clips of Sarah Silverman at the Nob Hill Masonic Center for those of us who couldn't cough up the $45 to get in.
—Janine Kahn