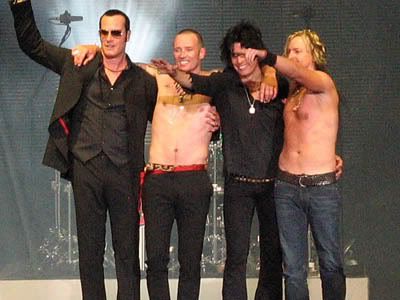 Stone Temple Pilots
Greek Theater
July 25, 2008
Review by Crystal Akins
Better than: Velvet Revolver
His illuminated white leather boots and skinny black jeans glided across the Greek Theater's stage, and his eerie falsetto melodies and raspy, slightly sedated voice reminded us why we loved the 90s so much. The Stone Temple Pilots officially reunited and opened their performance with a well received "Big Empty."
But prior to STP's performance, combative fans became hostile and territorial of their space on the grassy knoll a.k.a. the nosebleeds. If you can tolerate sitting on a steep incline, beers rolling downhill onto your back, amidst the pungent aroma of cigarettes and weed, there's really not a bad seat in the theater.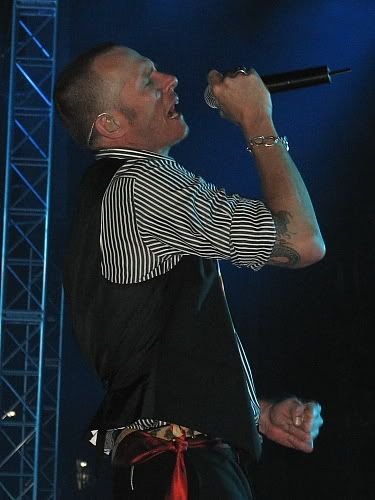 Opening band Black Rebel Motorcycle Club was a pleasant prelude to the night as we watched the sun decline into a pink sky. However, the intervals of whistles and cheers hardly motivated the band members to make full use of the stage and they remained stationary the entire performance. Crowd favorites included "Weapon of Choice" and "Ain't No Easy Way Out." Both sounded just as good live as they did recorded.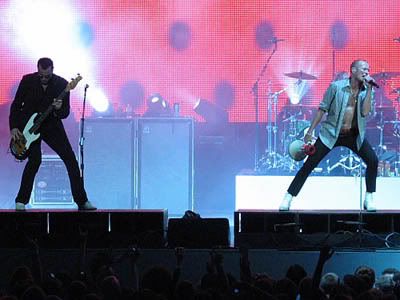 After a 45 minute sound check and a few degrees chillier, Stone Temple Pilots exploded onstage with psychedelic visuals engulfing the entire backdrop and lead singer Scott Weiland belting out bone chilling notes. Weiland's sexy swagger and Iggy Pop-like dance moves unintentionally grabbed the crowd's attention and wouldn't let go. Despite the singer's various hiccups with the law and drugs, his performance is the epitome of rock and roll. Besides, drugs and jail time are what rock stars are made of.
"This is a magical evening," said Weiland. "For musicians or any artist, there are moments where you're doing your thing and other moment's where you're feeling it. It's something you can't explain, and I think this is one of those nights."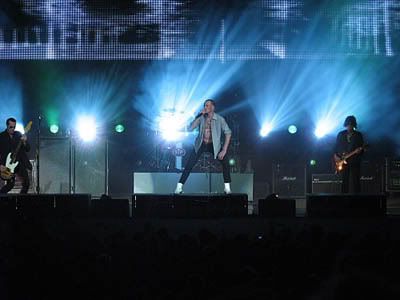 The crowd was completely enchanted by Weiland's charisma as he shifted into another song and removed another article of clothing. As the fog machines emitted one huge cloud on stage, we watched Weiland's silhouette dance behind the fog. By the end of the night, the singer had removed his: hat, jacket, vest, tie, and unbuttoned his shirt, in exactly that order.
Crowd favorites included "Plush" and "Wicked Garden" where Weiland held out his microphone to the crowd, encouraging them to sing the lyrics. Another hit, "Sour Girl" seemed like it would have ignited the crowd, but the tempo increase disabled the lead singer from lingering on those notes we yearn to hear.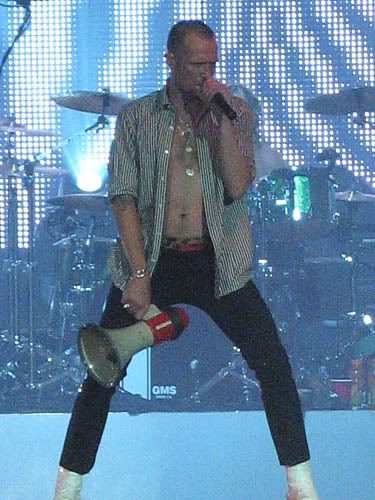 Occasionally between songs, Weiland and the band would improvise while he sang impromptu lyrics like, "It's time for a change in the middle class. Without hope, there is nothing," and called it his rant for the night.
The band rounded out the night with an encore, and upon finishing the first song, asked the crowd if they'd like another. As fans roared and cheered, Stone Temple Pilots gave their fans what they wanted.
Critic's Notebook:
Personal Bias: Sign me up for the official Stone Temple Pilots fan club. I'm in!
By the Way: Climbing over bodies on the grassy knoll was like trying to avoid land mines.