(Click the snapshot for a full photo tour of Crystal's Saturday adventure)
The Marina
Various locations
July 12, 2008
Notes and photos by Crystal Akins
Better than: Fraternities and sororities (but just barely).
To all the folks in the Marina, this one's for you.
Last night I decided to chronicle my journey through the Marina, hitting up four bars: Bar None, Matrix Fillmore, Kelly's Tavern, and Circa. I wanted to know how the upper echelon, debutantes and socialites partied. Instead, I was greeted by post-collegiate bros with libidos in over-drive, stilettos, beer pong and violence.
I should also note, my comrades and I fail to fit the Marina stereotype. Ben is covered in tattoos and Matt likes to wear women's raw denim.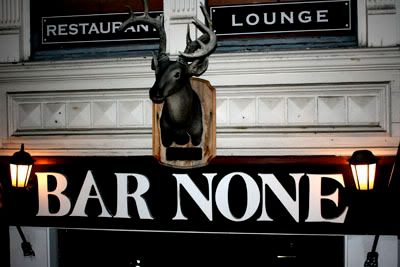 Bar None: Think John Landis' 1978 hit "Animal House." This lower level bar is dominated by Jagermeister paraphernalia, beer pong, darts, and "frat-tastic" dudes. To say the least, Bar None was a total sausage fest while Ben was the only minority occupying the bar. After wading my way through the crowd I noticed beer pong being set up. I lasted a total of 15 minutes before my gag reflexes started to kick in.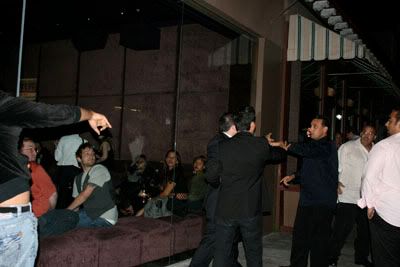 Matrix Fillmore: I was hoping to spot some Cougars here--no dice. Instead I saw a man get sucker punched in the face right outside the door. This place is a hodge-podge of tourists, faux elites, and older creepy men. Wannabe debutantes with their martinis infested any lounging area within a 3 feet proximity to the fireplace. Overall, this place was the most entertaining, but only because of the fight. P.S. This place is so chic the bouncers are adorned in suits.
Kelly's Tavern: Hosted Greg's birthday party where dozens of pizzas went cold because his friends were too busy drinking (so I ate some). This bar is reminiscent of Irish pubs and had the best crowd. About 20 minutes in, a turquoise bus called, "El Volando," prompted a girl to ask, "Is that some Mexican bus?" For the record, no one on the bus was Latino, but rather tourists dressed in their finest threads.
Circa: Had a line so long, I took pictures of the outside and went to SoMa's Supperclub instead. Tonight's theme in the Marina: Redundancy.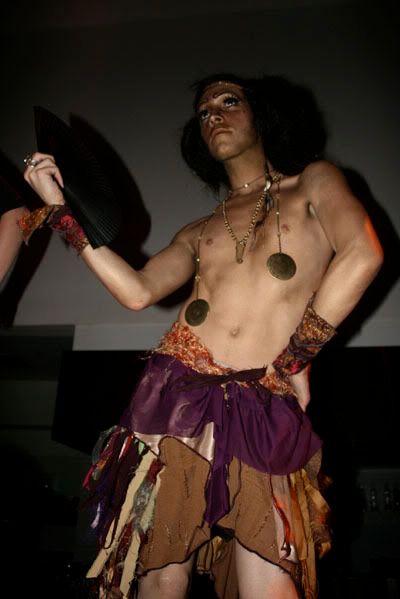 After discovering the Marina was a total bust, I ended up at the Supperclub and romped around the circular bar, dance floor, and costumed dancers. If you willing to suck it up and pay the $20 cover charge, it's worth it. Not to mention, the staff is so polite, customer service this good is hard to come by. God bless you, Supperclub for saving my night.
Do's and Don'ts:
DO: Go to the Marina if you're into guys wearing True Religion denim and ornate button-ups.
DON'T: Wear stilettos if you're already hammered because I'll laugh at you when you totally eat it.
DO: Use your ATM card. Most places took cards.
DON'T: Ask the liquor store cashier for the cheapest bottle of alcohol if you're either: slurring your words and/or asking for free spoonfuls of frozen yogurt. Tragic.
Personal Bias: Social mobility in this crowd is impossible for hipsters.