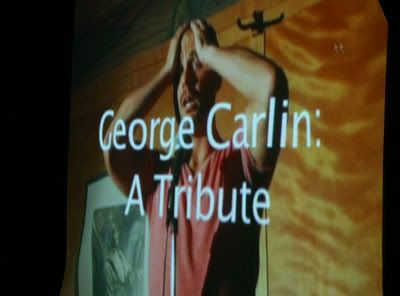 George Carlin Tribute
San Jose Improv (2nd St.)
July 2, 2008
Notes and Photos by Edward Paik
Better Than: Jay Leno
George Carlin's hairline recedes on the overhead screen as his years flash by: 1972, 1977, 1984, 1986, 2008. The final image of the comedic legend is black and white, without a smile or hint of emotion.
"He's dead," said Steve B, one of seven comics performing for Carlin's Wednesday night tribute at the San Jose Improv. "Don't think he'd be laughing about that? Then you don't know George."
The crowd laughs.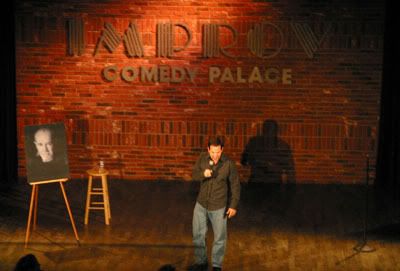 Carlin was a one of a kind stand-up comedian, actor and author who fought the law and made an example -- being the only comic with a routine that inspired a case for the Supreme Court, where it was ruled that government could censor public indecency. That didn't stop Carlin.
Laced with profanity, Carlin's stand-up acts grew more absurd, more influential with age. He placed second on Comedy Central's top 10 greatest stand-up comedians, won four Grammy Awards and influenced numerous comedians.
Big Al Gonzales remembers. Host of the second "George Carlin Tribute" that visited Club Deluxe San Francisco on Monday, Gonzales never met or saw Carlin in person.
"I would always pretend to fall asleep and I remember then watching his first HBO special," he said. "It was just so hilarious, and he was one of the first comics I saw. It always stuck with me."
Carlin passed away Sunday evening. He was 71.
The comedy community had been struck hard with its sudden loss, so Gonzales and Improv manager Justin Hollister arranged the tribute on short notice. "We looked at each other and said, 'Let's do it.'"
And the comedians gathered. Collecting memories they've had of Carlin to perform what Carlin did best: stand-up. One by one, the comics pronounced their gratitude, but more than a tribute to Carlin himself the show was a tribute to what Carlin stood for. Sex, race, politics, religion, human anatomy -- everything to draw out the hypocrisy and humor in human life. "To show what a funny world this is," Gonzales said, regardless of the often dark and flawed subjects behind each comic's influenced jokes.
Some 300 showed up to honor Carlin. "Most of what he said back then couldn't be said today," Eric Cash said. "We need a voice like him now more than ever."
But Carlin left more than his footprint on comedy behind -- he supported his peers. Stephen Jonze shared on stage how he first spoke to his 6th grade hero. Performing underground in Seattle in 1995, he got word that Carlin was in the area and called every hotel to ask, "Hi, is George Carlin there?" One phone call went through. He had woken Carlin up, only to extend an invitation to his own show. Carlin didn't make it. But Jonze received a postcard a few days later, telling him to aspire, signed, "Love, George."
Solace carried the comedians through acts, where some did the story-telling Carlin was known for. "Chicago Steve" Barkley received huge laughs from his experiences with speeding tickets. The difference between a ticket in Santa Cruz and New Jersey -- in Santa Cruz a cop might be too stoned to remember what he pulled you over for, in New Jersey he might be too busy shooting at your car.
"The thing [Carlin] hated about celebrities were the tributes that went on and on," Gonzales said. "Ironic?" But George's tribute seemed shorter than its two-hour span.
"It wasn't as much for him, he wouldn't have gave a fuck," said Gonzales in his concluding statements. "This was for the comic community, for people like you who were touched to come out and say fuck you authority." (With two middle fingers in the air.)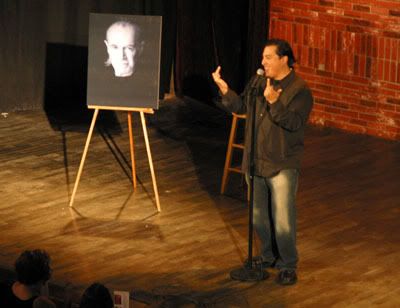 The spotlight shone on Carlin's portrait, stage right on a painter's stand, for a five-minute moment of silence after the tribute. The silence didn't last long, the crowd had to applaud.
He's gone, but his comedy remains, Gonzales said: "What better way to remember someone than through laughter?"
Critic's Notebook:
Personal Bias: Are "piss" and "tits" really still two of the "Seven Dirty Words?"
Random Detail: What struck Big Al Gonzales at the age of ten about George Carlin was the fact that he was white. "I'm Latino and I never heard white people talk like that," he said.