Last Night: The Ting Tings at Popscene
Popscene (330 Ritch St.)
June 12, 2008
Review and Photos by Edward Paik
Last night, the British indie-pop duo of Jules De Martino and Katie White gave the crowd at Popscene a fresh take on an overplayed foreign sound. Standing atop a mat composed of signed copies of their debut album (held together by blue masking tape), The Ting Tings alternated between keyboard, drums, a guitar and cowbell over the span of an hour - producing a sound that one can perhaps describe as "British rock meets the White Stripes."
Though the event itself covered only nine songs (the pair went on without an opening band) every song from their latest album with the exception of "Impacilla Carisung" had a place on the set list.
The Popscene crowd was perhaps most familiar with "Great DJ," which has been getting airtime on local alternative stations, and the band's first U.S. single, "Shut Up and Let Me Go" of iTunes commercial fame, which isn't a break up song, but a song influenced by White's departure from a record label, played with cowbell solo.
Despite the originality of primary vocalist White and drummer De Martino, the two could still learn a bit of staging a performance between the sets. After the fourth "Thank you," the crowd understood the band's gratitude, but perhaps some colorful anecdotes would have been a little more appropriate.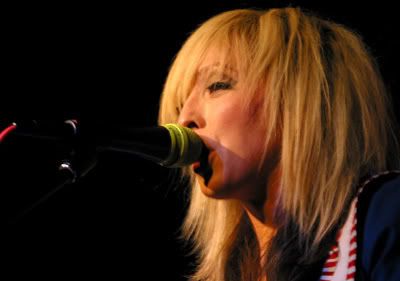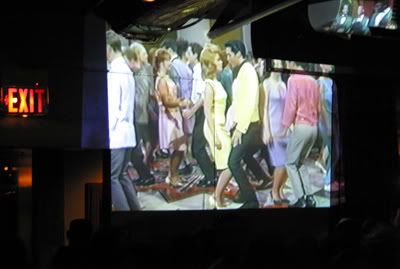 Set List:
We Walk
Great DJ
Fruit Machine
Keep Your Head
Traffic Light
Shut Up and Let Me Go
Be The One
That's Not My Name
We Started Nothing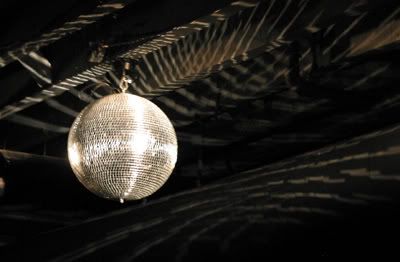 Critic's Notebook:
Personal Bias: Always been into British alternative.
Random Detail: Halfway through the show, the set list below Katie White's feet was torn till the point that it wasn't recognizable.
By the Way: Popscene hosts a new indie band every Thursday at 10 p.m. June 19 will feature indie-U.K. band These New Puritans.
Bonus Interview: Aaron Axelson, music director of Live105 and Popscene's resident DJ
How long have you working with Popscene?
I started Popscene in 1996 with a couple of DJ friends of mine. When we started the club we felt like we wanted to provide an outlet for the kind of music that we liked. At the time there wasn't this kind of indie-rock club so we wanted to provide an outlet to play our favorite kind of music and to bring in bands that we really liked.
So what kind of music do you like? What brought you together?
We all met at a My Bloody Valentine's show at Slim's, all of us, and we kind of all grew up in the early days of Brit-pop: Blur and Ride and Shoegazing and Supergrass. The indie buyer at Motown Records, we told him, "Oh, we're gong to start Popscene." So I thought it was cool to create a scene where we could play The Smiths and Blur and Velvet Underground and make a dance club for indie rockers.
What about The Ting Tings made you book them tonight?
I've always been a big fan for the Manchester music scene, from The Smiths to Joy Divison to Stone Roses. So I've always had a special heart for Manchester music. I first read about [The Ting Tings] in the Anemic Magazine, and they had a focus on Manchester bands. I looked them up online and I loved it, e-mailed the band in the U.K. and they sent me some tracks, and I started playing them on Soundcheck. They're on MTV now, but it's good though, they're a great band.
As an indie-band, what kind of potential did you see in them?
[The Ting Tings] have the potential to transcend beyond the underground indie scene. They have the potential to be a pop band. I could see fans of the Spice Girls being fans of The Ting Tings. I think they have potential not only to be bigger from the scene, but stronger.
Was there anything you saw in their performance tonight that you didn't expect?
What I loved about tonight's show, what made it really special, was the crowd. Their reaction to the show tonight was spectacular. You can see the band playing in a lot of small markets, you know what I mean, in the Salt Lakes and Portlands, and they came here and the Popscene crowd is so great that it's full of that insatiable hungry new music tastemakers. They're passionate about the music, and not posturing about indie. Everyone was dancing and the crowd feed off that. You could see the band evolved, feeding off that energy, and they were looking at each other going, "Man, I love that." That's the specialness of Popscene. It's the crowd.