Live105's BFD
June 7, 2009
Shoreline Amphitheater
Notes by Crystal Akins; All photography by Tim Wagner
Better Than: Any other concert you paid $10.53 for.
The golden hills of Mountain View hosted Live105's BFD concert on Saturday at the Shoreline Amphitheater, attracting a diverse crowd with headliners Cypress Hill, Moby and Pennywise.
But before attendees were afforded the opportunity to enjoy getting ripped off by food vendors who sold water for $5 per bottle and $9 BBQ sandwiches, they were suckered into paying $15 for parking. (Dolts like myself who forgot to hit the ATM had to turn around after spending 30 minutes waiting in line and fermenting in frustration).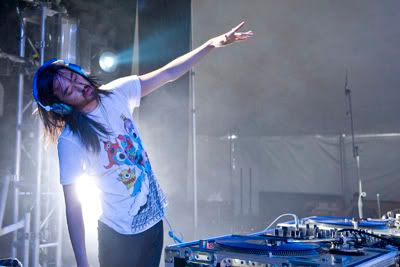 Here's a tip for future Shoreline visitors: If you take the first concert parking exit, the road wraps around to the back of the lot where you won't get charged for parking. Or, if you can handle walking a couple miles without blacking out from the sun's rays, you can park down the street by Google for free. (And unless you like wicked farmer's tans, wearing a tank top and sunscreen will spare you such atrocities.)
Once I got past the parking obstacle, I braced myself for the chaos that was the front gate. BFD was officially sold out, causing massive confusion at will call, the front gate, and any other entrance into the venue. Latecomers had the lovely opportunity to stand in line while the BFD Gestapo were busy screaming in everyone's face to move out of the way. Question: how do you identify BFD Gestapo? Answer: Look for the angry, somewhat overweight employees in yellow shirts.
Headlining the Budlight Festival Stage was Cypress Hill; a definite crowd pleaser. Not only did these guys hype up the crowd, they tossed hats, shirts, and other miscellaneous freebies to the crowd. Ending their set, they performed "Rock Superstar" which sounded just as good live as it did on your iPod.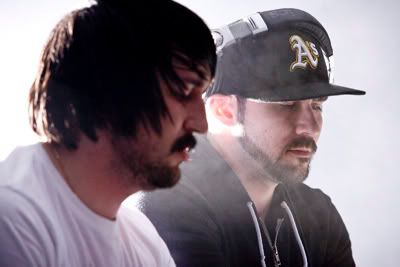 The Scion Subsonic tent was home to DJ Steve Aoki, MSTRKRFT, DJ AM, and Moby. If anyone knows how to make a crowd go "insane in the membrane," it's these guys who played your favorite Justice and Daft Punk remixes. The music in this tent was so loud and so hot the crowd's collective ears were bleeding, but everyone was too busy dancing to care. Aoki and Moby even crowd surfed!
Looking at the line up on the Soundcheck Local Music Stage, I didn't recognize any names, but I managed to catch Magic Bullets. In 80 degree weather, the lead singer was wearing a black blazer, long sleeved button up shirt, pants, and sweating profusely. Considering his dance moves, I don't know how he dodged heatstroke. This band is reminiscent of All American Rejects, and it's so pop that I dug it.
Critic's Notebook
Personal Bias: I heart DJ AM and MSTRKFRT.
Random Detail: There were coolers of beer backstage in the Subsonic tent.
By the way: I've never seen so many people in one venue behave so well.